I received this book for free from Netgalley, Publisher in exchange for an honest review. This does not affect my opinion of the book or the content of my review.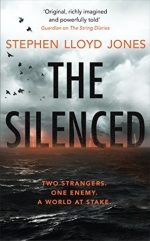 The Silenced
by
Stephen Lloyd Jones
Published by
Headline
on April 19, 2018
Genres:
Fantasy
,
Fiction
,
Thriller
Pages:
416
Format:
E-Arc
,
Paperback
Source:
Netgalley, Publisher
Buy on Amazon
Goodreads
Stephen Lloyd Jones - acclaimed author of THE STRING DIARIES - returns with a brand-new supernatural thriller. For fans of Stephen King and Lauren Beukes.

Mallory Grace just killed a man. To survive the next hour, she'll have to kill again. To survive the night, she'll need a miracle.

Obadiah Macintosh doesn't seem like a miracle. He is a recluse who works alone at an animal sanctuary, and he has a secret. When the dogs in his care alert him to intruders hidden by the darkness, he knows they are coming for him.

Mallory and Obadiah were strangers, brought together for one purpose. To give new light to a terrifying world.

But now they are on the run, and evil intends to find them.

THE SILENCED is fast-paced, dark and electrifying - the war between good and evil is brewing . . .
Today on the Blog I am super excited to have a Mini review of The Silenced along with a Q&A with author Stephen Lloyd Jones as part of the blog tour. As always don't forget to check out other awesome blogs on the tour!
Mini Review:
So this is a super short review because I'm still reading The Silenced! I know its terrible and I should be more organised. But here's what I think so far:
I read Stephen first book The String Diaries  and I loved it – this author manages to mix fantasy with a fast-paced thriller. I am have only started this book but the pages are begging me to turn them and read late into the night.  Only having to go to work is stopping me.
There have been a couple of moments when I have felt my heart racing and heart stopping at the same time. Some bits have been truly terrifying and made me want the light. 
But here's to five o'clock when its finally the weekend and I can crack on with fabulous book. And a full review will appear as soon as I can!
Below is a little Q&A if you want to know more about the author.
Q&A:
Can you briefly tell us how you came up with the idea for The Silenced?
Usually, with a book, the first scene arrives fully formed, along with a loose understanding of the ending. The writing itself becomes an exercise in joining the two.
THE SILENCED developed quite differently. I was 20,000 words into an unrelated novel when, out of the blue, I scribbled down the book's opening sentence. I tried to ignore it, but I couldn't resist; the sentence developed into a paragraph, a page, then a first chapter, at which point I had to park the original project and commit. Writing a book with no sense of where I was heading was terrifying, but I think it taught me a lot.
That first sentence, by the way, was possibly the only one to survive as originally written: Mallory wouldn't return to the bathroom because that's where the dead man was, but she did need to wash off his blood – it clung to her skin like opera gloves worn to the elbow.
Did you have a favourite character to write in the book?
I loved writing Mallory, the tough and cynical survivor, just as much as I loved writing Obe, the buoyant but vulnerable fantasist; but what I loved writing most was the interplay between them. As polar opposites, they were always going to get under each other's skin, which was why forcing them together for the book's duration was incredibly entertaining.
Do you always know the plot before writing the novel or do you make it up as you go along?
Ha! See above.
Can you give any advice for those wanting to write?
Don't write to impress your old English teacher. Don't write to impress your mum, or your boyfriend, or your wife. Certainly don't write to impress the people you meet at a writing class. Settle down, tell yourself a story. Write the book you'd want read. If you entertain yourself, there's a good chance you'll entertain others. Believe in your work, but don't ignore your weaknesses; otherwise you'll fail to correct them. Accept that finishing a first draft means you're nowhere near finished.
Name the best book you have read in the last year, your favourite book ever and which book has been on your tbr the longest.
Last year's favourite was The Dry, by Jane Harper. Favourite book ever has be The Hobbit. The book that's lingered longest on my tbr shelf is Dune, by Frank Herbert. It was a twelve birthday present from my parents, which means it's sat there thirty-two years. I really want to read it and I've no idea why I haven't – you might just have embarrassed me into dusting it off . . .
Subscribe to Blog via Email
Join 905 other subscribers