I received this book for free from Netgalley, Publisher in exchange for an honest review. This does not affect my opinion of the book or the content of my review.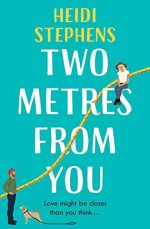 Two Metres From You
by
Heidi Stephens
Published by
Headline Accent
on 17 June 2021
Genres:
Fiction
,
Chick-lit
,
Romance
Pages:
288
Format:
E-Arc
,
Paperback
Source:
Netgalley, Publisher
Buy on Amazon
Goodreads
Love might be closer than you think....
Gemma isn't sure what upsets her more. The fact she just caught her boyfriend cheating, or that he did it on her brand-new Heal's cushions.
All she knows is she needs to put as many miles between her and Fraser as humanly possible. So, when her best friend suggests a restorative few days in the West Country, it seems like the perfect solution.
That is, until the country enters a national lockdown that leaves her stranded. All she has for company is her dog, Mabel. And the mysterious (and handsome!) stranger living at the bottom of her garden....
Packed full of laugh-out-loud moments, this hugely uplifting, feel-good and sparkling romantic comedy.
Perfect for fans of Mhairi McFarlane, Sophie Kinsella, Beth O'Leary and Laura Jane Williams.
Two Metres From You was a fun read. And it can also take the title for being the first book that I have read that is set in the pandemic. Perhaps making the most of COVID. However I loved how the book made light go the situation and shown the kindness and positivity that can occur.
Each chapter started with a To-Do List which added not only to the story telling but also allowed me to connect more with Gemma. It was just a really nice touch to the story telling.  I loved Gemma, stuck somewhere she probably didn't really want to be, making the most of the situation.
Luckily Gemma has her faithful Mabel with her. A gorgeous Labrador who plays a big role in the story. And then there is Matthew. The love interest and the person whom Gemma is thrown too.
Two Metres from You was a fun read, which was a celebration of early lockdown life which had a slight nostalgic feel to the telling of the story.
Subscribe to Blog via Email
Join 910 other subscribers