Monthly Round-up, linking everything that has happened in the last month, posted on the last day of said month. This Round-up May 2020.
May was the second month of being furloughed and it still is really strange to not get up and go to work. I honestly cannot wait until I can back to my old routine.
The good news is that it has given me loads of time to sort out my blog and do all the admin that I have been putting off for months, if not years. Hopefully you can all see the changes?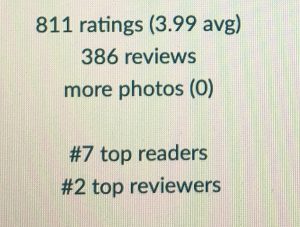 Another thing I've been doing is putting my reviews up on Goodreads, which I had not realised that I was so far behind on. So much so that this happened. Yep, for a brief while I was #2 top reviewers and #7 top reader in the UK! Has anything great happened to you blogging or book wise?
Currently reading:
Reviews:
Blog Tours:
Bookish Gossip:
Pastime Pleasures:
Challenges:
So what do you think of my round-up May 2020? What have you read this month? Let me know in the comments below!
Subscribe to Blog via Email
Join 910 other subscribers