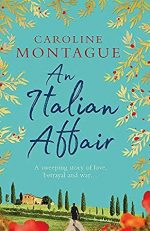 An Italian Affair
by
Caroline Montague
Published by
Orion Books
on 21 March 2019
Genres:
Fiction
,
Historical
,
Romance
Pages:
496
Format:
Paperback
Source:
Own Copy
Buy on Amazon
Goodreads
Love. War. Family. Betrayal.

Italy, 1937. Alessandra Durante is grieving the loss of her husband when she discovers she has inherited her ancestral family seat, Villa Durante, deep in the Tuscan Hills. Longing for a new start, she moves from her home in London to Italy with her daughter Diana and sets about rebuilding her life.

Under the threat of war, Alessandra's house becomes first a home and then a shelter to all those who need it. Then Davide, a young man who is hiding the truth about who he is, arrives, and Diana starts to find her heart going where her head knows it must not.

Back home in Britain as war breaks out, Alessandra's son Robert, signs up to be a pilot, determined to play his part in freeing Italy from the grip of Fascism. His bravery marks him out as an asset to the Allies, and soon he is being sent deep undercover and further into danger than ever before.

As war rages, the Durante family will love and lose, but will they survive the war...?
So I sat on this book for a little bit waiting agonisingly for my exams to finish. And then my mum read An Italian Affair and would not stop raving about it. Seeing as it is unusual for my mum to recommend books I just wanted to read this all the more.
Added to that that I got the book from a local event (which was amazing!) and got to hear the authors' opinions and the shear amount of research, this quickly became a book that I was invested in.
This was a story that you could easily be invested in. The history, the characters, the setting meant that it was so easy to get swept up in the tale and forget that, actually, you are reading a story.
Without giving too much away we follow Alessandra, who while grieving for her husband, inherits a house in Italy. This may be the chance she needs to create a life for herself and children.
An Italian Affair is an engaging, passionate read filled with beautiful, compassionate moments in the Tuscan countryside.
Subscribe to Blog via Email
Join 369 other subscribers