I received this book for free from Netgalley in exchange for an honest review. This does not affect my opinion of the book or the content of my review.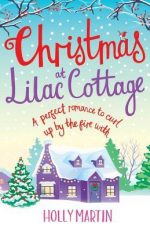 Christmas at Lilac Cottage
by
Holly Martin
Series:
White Cliff Bay #1
Published by
Bookouture
on September 25, 2015
Genres:
Chick-lit
,
Christmas
,
Fiction
,
Romance
Pages:
350
Format:
E-Arc
Source:
Netgalley
Buy on Amazon
Goodreads
Welcome to the charming seaside town of White Cliff Bay, where Christmas is magical and love is in the air... Penny Meadows loves her home - a cosy cottage decorated with pretty twinkling fairy lights and stunning views over the town of White Cliff Bay. She also loves her job as an ice-carver, creating breathtaking sculptures. Yet her personal life seems frozen. When Henry and daughter Daisy arrive at the cottage to rent the annex, Penny is determined to make them feel welcome. But while Daisy is friendly, Henry seems guarded. As Penny gets to know Henry, she realises there is more to him than meets the eye. And the connection between them is too strong to ignore... While the spirit of the season sprinkles its magic over the seaside town and preparations for the ice sculpting competition and Christmas eve ball are in full swing, can Penny melt the ice and allow love in her heart? And will this finally be the perfect Christmas she's been dreaming of? Like a creamy hot chocolate with marshmallows, you won't want to put this deliciously heartwarming novel down. Spend the perfect Christmas in White Cliff Bay this year. Snowflakes on Silver Cove coming very soon. Read what everyone is saying about Holly Martin's books: 'Holly Martin writes about life and love with such big-hearted warmth and flair.' Belinda Jones 'I adored this book. Romantic and written with the fabulous humour that makes Holly's books such a delight. It's utterly gorgeous, funny, and swoonsome.' Rachael Lucas 'A beautiful book about Christmas, real love and friendship.' Rebecca Raisin 'Holly Martin can write, that's for damn sure, and this is one that you're going to want to read again and again and again.' Becca's Books 'The writing is very gripping, magical, passionate, vivid, spellbinding, emotional and authentic. A MUST READ!!!' Sky's Book Corner
It seems to be a little ridiculous to be reading a Christmas story in September, but like all the best stories,  Christmas at Lilac Cottage can be read any time of the year despite the cosy chrismassy feels, the log fires, snow and Christmas.
This a cute book. I know it is a tad predictable, but who really cares? I wouldn't believe you if you said that you picked this book up and did not expect the out come. DO NOT LIE TO ME PEOPLE! I loved how the romance went, how everything seemed to be completely natural  (and not fake).
I spent most of my time wanting to give everyone warm hugs and sitting in a cafe with them all. To be honest everyone is adorable and cute in this book, and were exactly what I wanted. I loved how there were little catastrophes everywhere, but then the whole town pulling together.
I liked that the story was spilt between both Henry and Penny. It's nice to get inside two people's heads. Sometimes a person can get boring so it is nice to swap occasionally. But it's also great to get a different perspective on events and to understand things differently.
This was a fun and fabulous book to curl up with under the blanket and with a fire blazing. In a way it make me yearn for those cosy winter nights in with nothing better to do than read a book (sorry… sort of). And best of all it made me excited for Christmas!
It's never too early to think of Christmas  😉 so add Christmas at Lilac Cottage to Christmas wishlist! (and ignore my ramblings – just take this as a great book!)
Subscribe to Blog via Email
Join 910 other subscribers