I received this book for free from Netgalley in exchange for an honest review. This does not affect my opinion of the book or the content of my review.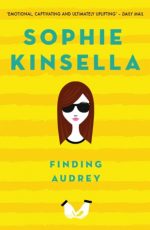 Finding Audrey
by
Sophie Kinsella
on May 5, 2016
Genres:
Chick-lit
,
Contemporary
,
Fiction
,
Young Adult
Pages:
280
Format:
E-Arc
Source:
Netgalley
Buy on Amazon
Goodreads
Audrey can't leave the house. she can't even take off her dark glasses inside the house.
Then her brother's friend Linus stumbles into her life. With his friendly, orange-slice smile and his funny notes, he starts to entice Audrey out again - well, Starbucks is a start. And with Linus at her side, Audrey feels like she can do the things she'd thought were too scary. Suddenly, finding her way back to the real world seems achievable.
Seeing as I pretty much have all the books by Sophie Kinsella, I was quite excited to see Finding Audrey. As it is aimed at young adults so I thought it would be a little different from previous novels, that were starting to take on a samey effect. Luckily I was right!
Finding Audrey is a bitter-sweet story as Audrey comes to terms her anxiety disorder and begins to make real process. Like all Kinsella novel's there is a sense of wit and charm, and humorous moments in comparison to the touching ones. It is primarily told through Audrey's video diaries which naturally leads on to what is happening in the household and all the the craziness it involves.
This book was pretty amazing, I loved the fact that Kinsella has branched out, I loved how much Audrey's mum believed in the Daily Mail articles so much that she became obsessed with the negative affect computer games have. It was so funny. There is so much drama going on that sometimes you're distracted, until you get jolted down into reality. There is a more serious tone in this novel, but at the same time I'm still reminded of the Kinsella that I love.
Finding Audrey is about finding yourself, accepting yourself for who you are, and progressing forward. It also helps if you have a bonkers but loveable family. Perhaps that's just me. This is a witty, well-written, heart-warming book that you cannot fail to fall in love with.
Subscribe to Blog via Email
Join 910 other subscribers