I received this book for free from Netgalley in exchange for an honest review. This does not affect my opinion of the book or the content of my review.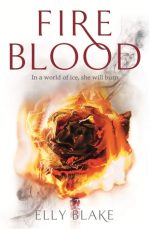 Fireblood
by
Elly Blake
Series:
Frostblood #2
Published by
Hodder & Stoughton
on September 7th 2017
Genres:
Fantasy
,
Fiction
,
Young Adult
Pages:
304
Format:
E-Arc
Source:
Netgalley
Buy on Amazon
Goodreads
In this action-packed sequel to Frostblood, the future of Ruby's world and a court ruled by the love of her life depends on the uncovered secrets of her past. Perfect for fans of Red Queen and Throne of Glass.

'With a fierce and vibrant world, richly-drawn characters, a steamy romance, and page-turning twists, Frostblood has all the elements of a great fantasy.' - Morgan Rhodes, New York Times bestselling author of the Fallen Kingdom series

Against all odds, Ruby has defeated the villainous Frost King and melted his throne of ice. But the bloodthirsty Minax that was trapped inside is now haunting her kingdom and everyone she loves. The answers to its demise may lie to the south in Sudesia, the land of the Firebloods, and a country that holds the secrets to Ruby's powers and past....

Despite warnings from her beloved Arcus, Ruby accompanies a roguish Fireblood named Kai to Sudesia, where she must master her control of fire in a series of trials to gain the trust of the suspicious Fireblood queen. Only then can she hope to access the knowledge that could defeat the rampaging Minax - which grows closer every moment. But as sparks fly in her moments alone with Kai, how can Ruby decide whom to trust? The fate of both kingdoms is now in her hands.
Okay, so I read Frostblood earlier in the year and I adored it so much. So as soon as I could read Fireblood I knew that I was in for a treat.
It's rare that the sequel is better than the first book. But in the case of Fireblood it was ten times better. Fireblood made me invested in the outcome and which way Ruby was going to turn. Romance plays a bigger part here – especially with new boy Kai on the scene. But the book is predominately about Ruby learning about her powers and how she is going to overcome the Minax.
I loved how Ruby's strength never wavered – she became more sure of herself and her feelings for Acrus as the book progressed. And this was even with the fact that there are some huge, unexpected moments and a couple of twists that really surprised me. So how would poor Ruby have felt?
This was a really exciting read. With some big battles to keep us occupied and some tender moments to keep us sane. There were also a few moments when I wanted to cry. Either from frustration, happiness or sadness. This book had my emotions all over the place.
And while this book did a lot to bridge over to the third book, it did not feel like a filler book. Fireblood definitely earned its place in the series. Keeping the magic of the first book, while moving us slowly towards the third. And giving us a different side to Ruby and that world.
I just need the next book in my life – like now – and then I would be happy.
Subscribe to Blog via Email
Join 369 other subscribers