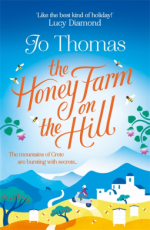 The Honey Farm on the Hill
by
Jo Thomas
Published by
Headline Review
on August 24th 2017
Genres:
Chick-lit
,
Fiction
,
Romance
Pages:
400
Format:
E-Arc
Source:
Netgalley
Buy on Amazon
Goodreads
We never forget the one who got away.

Eighteen years ago Nell fell in love in the mountains of Crete and life changed for ever. Nell's daughter, Demi, has never met her dad. Nell never saw him again.

When she gets the chance to return to the hilltop town of Vounoplagia - where everything began - Nell can't resist the urge to go back and find him.

Working on a honey farm perched high up in the hills, there's plenty to keep her busy. And she will quickly realise the town harbours just as many secrets as she does.

But if Nell's favourite romantic films are right, there's a happy ending in store for each of us. All she has to do is seek out the magic of the mountains...
You know when you have an auto go to author? Well Jo Thomas is one of those authors. There is something warm and fuzzy about all her books that makes them divine and utter perfection. So I was more than ready to dive into The Honey Farm on the Hill.
This time round we end up in Crete. A place that has special meaning for Nell, who fell head over heels for the country and a special man. Years later she is back. As a WWOOFer (World Wide Opportunities on Organic Farm). A term/acronym that I have never heard of, but all the references had me laughing out loud.
One thing I really loved was the descriptions of rural Crete. I could almost smell the sea and the wild herbs on the mountains. As well as picturing gorgeous landscapes. And with some lovable characters this was the perfect book to settle down with and read with a cocktail or two…
The Honey Farm on the Hill was an enjoyable and fun read. The attempts to lure the bees to the news hives had me in stitches and the romance left me with butterflies in m stomach. This was a warm, touching and beautiful read, one that I can easily read again and again.
Subscribe to Blog via Email
Join 910 other subscribers