I received this book for free from Netgalley in exchange for an honest review. This does not affect my opinion of the book or the content of my review.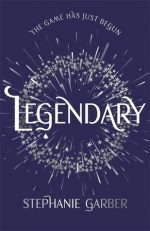 Legendary
by
Stephanie Garber
Series:
Caraval #2
Published by
Hodder & Stoughton
on May 29, 2018
Genres:
Fantasy
,
Fiction
,
Romance
,
Young Adult
Pages:
432
Format:
E-Arc
Source:
Netgalley
Buy on Amazon
Goodreads
A heart to protect. A debt to repay. A game to win.

After being swept up in the magical world of Caraval, Donatella Dragna has finally escaped her father and saved her sister Scarlett from a disastrous arranged marriage. The girls should be celebrating, but Tella isn't yet free. She made a desperate bargain with a mysterious criminal, and what Tella owes him no one has ever been able to deliver: Caraval Master Legend's true name.

The only chance of uncovering Legend's identity is to win Caraval, so Tella throws herself into the legendary competition once more—and into the path of the murderous heir to the throne, a doomed love story, and a web of secrets…including her sister's. Caraval has always demanded bravery, cunning, and sacrifice. But now the game is asking for more. If Tella can't fulfill her bargain and deliver Legend's name, she'll lose everything she cares about—maybe even her life. But if she wins, Legend and Caraval will be destroyed forever.

Welcome, welcome to Caraval...the games have only just begun.
Legendary has to be one of the most strange and twisty books that I have ever read. But it was so good that it was impossible to put down.
For me Legendary was 100% better than Caraval, there was more darkness, more glitter and twisty plots than you could shake a stick at. It was also a pretty intense read, so that helped with keeping the suspense going.
To be honest words cannot really describe how awesome and amazing this book is. It was darkly edgy and delicious tale that I did not want to end. Tella is thrown into the deep end as she plays Legend's deadly game in the hope of rescuing her mother. But is Tella ready to accept the consequences?
Also I need to mention that ending. When it came down to it, I definitely was not ready for this book to end. But if I am being honest the ending was perfection.  I felt satisfied and if the book ended there I would be okay. But also thank goodness that is not the case! So roll on Finale next year because I have no idea how it ends.
This was a fantastic read, that sucked me in and made me devour this book as quickly as possible.
Subscribe to Blog via Email
Join 369 other subscribers