I received this book for free from Netgalley in exchange for an honest review. This does not affect my opinion of the book or the content of my review.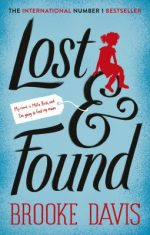 Lost & Found
by
Brooke Davis
Published by
Cornerstone Digital
on January 29, 2015
Genres:
Contemporary
,
Fiction
Format:
E-Arc
Source:
Netgalley
Buy on Amazon
Goodreads
Millie Bird is a seven-year-old girl who always wears red wellington boots to match her red, curly hair. But one day, Millie's mum leaves her alone beneath the Ginormous Women's underwear rack in a department store, and doesn't come back.
Agatha Pantha is an eighty-two-year-old woman who hasn't left her home since her husband died. Instead, she fills the silence by yelling at passers-by, watching loud static on TV, and maintaining a strict daily schedule. Until the day Agatha spies a little girl across the street.
Karl the Touch Typist is eighty-seven years old and once typed love letters with his fingers on to his wife's skin. He sits in a nursing home, knowing that somehow he must find a way for life to begin again. In a moment of clarity and joy, he escapes.
Together, Millie, Agatha and Karl set out to find Millie's mum. Along the way, they will discover that the young can be wise, that old age is not the same as death, and that breaking the rules once in a while might just be the key to a happy life.
Lost & Found is a quirky and slightly strange book, all the characters are unusual and have their own quirks. Everything was on the extreme end of the scale that it was a little hard to engage with.
I liked the characters at the very beginning of the book, each time Millie put a sign up saying "In here mum" made me wish I could give her a big hug. But Agatha and Karl quickly began to get on my nerves. I couldn't understand their actions. They seemed over the top and comical.
Also the end was, for me, really disappointing, there was a conclusion of sorts, all the characters are happy / better off. But that is the not the ending I wanted. They all walked off into the sunset without really completing the quest they were on. It felt like Davis  had just paused in the story and then never got back to finishing it.
If you want something funny, entertaining, doesn't want to take anything seriously and tie every thread of the story into a pretty bow then Lost & Found is the book for you. Otherwise stay well clear.
Subscribe to Blog via Email
Join 369 other subscribers