I received this book for free from Netgalley in exchange for an honest review. This does not affect my opinion of the book or the content of my review.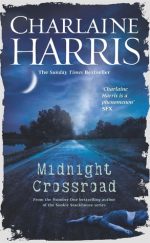 Midnight Crossroad
by
Charlaine Harris
Series:
Midnight Texas #1
Published by
Gollancz
on May 6, 2014
Genres:
Fiction
,
Film Genres
,
Mystery
,
Paranormal
Pages:
305
Format:
E-Arc
Source:
Netgalley
Buy on Amazon
Goodreads
Welcome to Midnight, Texas, a town with many boarded-up windows and few full-time inhabitants, located at the crossing of Witch Light Road and Davy Road. It's a pretty standard dried-up western town.
There's a pawnshop (where someone lives in the basement and runs the store during the night). There's a diner (although those folk who are just passing through tend not to linger). And there's new resident: Manfred Bernardo, who thinks he's found the perfect place to work in private (and who has secrets of his own).
If you stop at the one traffic light in town, then everything looks normal. But if you stay a while, you might learn the truth...
• EDIT Full review of Midnight Crossroad now LIVE!! *
So this is a mini review of what I've read so far of Midnight Crossroad. A proper (and hopefully more detailed) review will appear later on my blog when I get round to finishing the whole book.
From the tantalising glimpse I got of this story from the sample chapters – this book appears to have it all – there's mystery and fantasy all wrapped up together and set in a modern (basically current) world. This is the type of book I instantly love, and my shelves are dominated by this genre – so why only four stars? To be honest, from reading four (enjoyable) chapters I'm not really sure how to review this book. The bit I read was good, albeit at the very beginning when I struggled to keep track of the numerous characters (but the second reading made everything clear). It was obviously setting up the scene, which to some readers may appear slow, but when you are setting up a trilogy is an adequate amount of time spent.
Overall from the few chapters I read, this looks like a promising trilogy and one that I will definitely be reading this summer. Now do I buy it now or wait till after exams… decisions decisions….
Not sure if you want to read this book? Well you too can read an exclusive four chapters here: Midnight Crossroad by Charlaine Harris
• EDIT Full review now LIVE!! *
Subscribe to Blog via Email
Join 369 other subscribers