I received this book for free from Netgalley in exchange for an honest review. This does not affect my opinion of the book or the content of my review.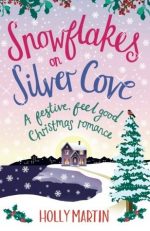 Snowflakes on Silver Cove
by
Holly Martin
Series:
White Cliff Bay #2
Published by
Bookouture
on October 30, 2015
Genres:
Chick-lit
,
Christmas
,
Fiction
,
Romance
Pages:
352
Format:
E-Arc
Source:
Netgalley
Buy on Amazon
Goodreads
Libby Joseph is famous for her romantic Christmas stories. Every December, readers devour her books of falling in love against the magical backdrop of the Christmas season. If only Libby believed in the magic herself…
Struggling to finish her current novel, Libby turns to her best friend and neighbour George Donaldson to cheer her up. But George also needs a bit of support himself. Nervous about getting back into the dating saddle after splitting from his wife, he and Libby strike a deal. She will teach George how to win over the ladies, and Libby will in turn be inspired to inject her novel with a good dose of romance.
As Libby and George explore the beautiful White Cliff Bay on a series of romantic Christmas-themed dates, Libby finds herself having more fun than she's had in ages and…discovers feelings that she never knew she had for George.
But is it too late? Will George win someone else's heart or can Libby act like the heroine in one of her stories and reach for her own love under the mistletoe this Christmas?
Simply, I loved Snowflakes on Silver Cove. Holly Martin has firmly now become one of my favourite authors, each of her books are little bits of joy, from the cuteness of everything, to the romance, to the characters that you cannot help but fall in love with, this is a book that lived up to expectation. 
Having fallen in love with the first book of the series – Christmas at Lilac Cottage –  I was super eager to get started on this book and I may have even clapped my hands with joy when I received.
However, in the beginning I did dislike that there was a side story with Seb and Amy because I wanted to know more about George and Libby, I didn't want some side story interfering with my reading. But the more I read the more I cared and the more I couldn't decide who my favourite couple was. The romance is sweet and predictable but absolutely wonderful. Something which is very typical and normal for a Holly Martin book. But this is one trait that I have come to know and love. After all who does not like a feel good romance? I thought so.
Snowflakes on Silver Cove is  a fun, humorous festive read, that will leave you wishing that Christmas would hurry up and arrive so that the festive fun can begin! This is a story that will keep you giggling and will leave you with a happy feeling that only comes from reading a good book!
Subscribe to Blog via Email
Join 910 other subscribers