I received this book for free from Netgalley in exchange for an honest review. This does not affect my opinion of the book or the content of my review.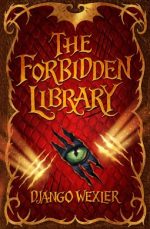 The Forbidden Library
by
Django Wexler
Published by
Doubleday Childrens
on April 10, 2014
Genres:
Children's
,
Fantasy
,
Fiction
Pages:
336
Format:
E-Arc
Source:
Netgalley
Buy on Amazon
Goodreads
The Forbidden Library kicks off a brand new classic fantasy series perfect for fans of Coraline, Inkheart, and The Books of Elsewhere
Alice always thought fairy tales had happy endings. That--along with everything else--changed the day she met her first fairy
When Alice's father goes down in a shipwreck, she is sent to live with her uncle Geryon--an uncle she's never heard of and knows nothing about. He lives in an enormous manor with a massive library that is off-limits to Alice. But then she meets a talking cat. And even for a rule-follower, when a talking cat sneaks you into a forbidden library and introduces you to an arrogant boy who dares you to open a book, it's hard to resist. Especially if you're a reader to begin with. Soon Alice finds herself INSIDE the book, and the only way out is to defeat the creature imprisoned within.
It seems her uncle is more than he says he is. But then so is Alice.
The Forbidden Library is a brilliant twist on Alice in Wonderland – instead of falling down the rabbit-hole, Alice falls into books. I love books and I love it when I fall in love with and become attached to the world that has been created. However, I am quite glad that when I read a book that I don't fall into it like Alice. I feel that I would be more an Isaac character, well-meaning but completely out of my depth.
The Forbidden Library is filled with many marvellous wonders; from books that leak their magic into our world  to a talking cat -Ashes – which always makes me frustrated that my own cat cannot talk (one day…). And there are the Swarmers, who are both cute (a feathery rubber ball) and dangerous (they have sharp beaks and claws).
Alice has to face difficult situations where she can only rely on her wits and abilities, rather than hanging around waiting for help or for the problem to resolve itself.
There was enough mystery and twists in the plot to keep me guessing, also, like Alice, I wasn't sure who to trust. However the plot was a simple one, focusing solely on Alice's journey, meaning that I never really got a feel for the other characters or their stories. However the ending of the books suggests that this is the beginning of a series and there is more to come – hopefully we will find out more about Isaac, Ashes, Ending and the Dragon.
Overall The Forbidden Library is an enjoyable book and is perfect for young readers who are fans of Narnia or the Inkheart series.
Subscribe to Blog via Email
Join 369 other subscribers