I received this book for free from Publisher in exchange for an honest review. This does not affect my opinion of the book or the content of my review.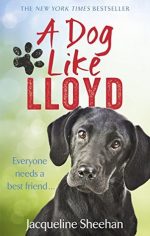 A Dog Like Lloyd
by
Jacqueline Sheehan
Published by
Ebury Press (Fiction)
on April 20th 2017
Genres:
Fiction
Pages:
304
Format:
Paperback
Source:
Publisher
Buy on Amazon
Goodreads
Happiness can be found in the most unexpected places...
Roxanne Pellegrino's world collapses when her husband dies unexpectedly, and overwhelmed by her all-consuming grief, she runs away for a new start on Peaks Island.
But her new life of solitude is interrupted when she meets Lloyd – a stray black Labrador with an equally unhappy past. As both slowly begin to heal, a remarkable friendship blossoms, and Roxanne will soon discover she's not so alone after all...
'I love the story so much ... it spoke to me'Katherine Heigl
 A Dog Like Lloyd is a story about grief and what it does to us and how (human or dog), how we can just keep going and get through each day time and time again. So far so simple. The story could have ended here. Instead there is so much more packed in this book. Without spoiling it too much for those who are yet to read, there is a little mystery to be solved. A damsel to be rescued and a story to be unravelled.
I did enjoy this story but I had a hard time connecting with the characters and the story being told. I felt like I was reading the book from a far rather than being in the centre of the story. But I loved the relationship between Lloyd and Roxanne – I thought it was touching and so moving seeing them become so reliant on one another. Lloyd's role in this book was the best thing ever. 
This is a captivating and realistic tale of grief and coming together. Dog lovers will fall in love with this book each and every time they read it.
And if my review of A Dog Like Lloyd by Jacqueline Sheehan was not enough for you I also have an extract up on the blog. Although lets be honest you shouldn't need extra encouragement to read this fantastic book!
Subscribe to Blog via Email
Join 369 other subscribers