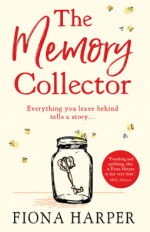 The Memory Collector
by
Fiona Harper
Published by
HQ
on September 6, 2018
Genres:
Chick-lit
,
Fiction
Pages:
384
Format:
E-Book
,
Paperback
Source:
Netgalley
,
Publisher
Buy on Amazon
Goodreads
'Touching and uplifting, this is Fiona Harper at her very best.' MILLY JOHNSON

From the author of The Other Us

***THE WINNER OF THE 2018 SPECULATIVE ROMANTIC NOVEL AWARD***

'This book tore my heart into tiny pieces, then put it back together and made it fly.' JANE LINFOOT

'A beautiful story of loss, discovery and recovery.' HEIDI SWAIN

'Heart-wrenching and compelling.' SARAH MORGAN

***

Heather Lucas lives her life through other people's memories.

Heather doesn't want to remember her childhood, not when her mother's extreme hoarding cast her family life into disarray.

For Heather's mother, every possession was intimately connected to a memory, so when Heather uncovers a secret about her past that could reveal why her mother never let anything go, she knows there's only one place she'll find answers – behind the locked door of her spare room, where the remains of her mother's hoard lie hidden.

As Heather uncovers both objects and memories, will the truth set her free? Or will she discover she's more like her mother than she ever thought possible?

A powerful, uplifting story about love, loss and the things we leave behind, perfect for fans of Eleanor Oliphant is Completely Fine and The Keeper of Lost Things.
So when I saw the cover for The Memory Collector I fell in love a little bit. It was gorgeous and made me want to grab the book, find a corner and a cup of and tea and just read until every page was devoured.
This is a gorgeous book that broke me so many times with each new revelation. Only to pick me back up and put me together.
This is a story of loss and rediscovery told though objects that are each related to a specific memory. As the story flicks between Now and Then we get an insight into why so man you objects have been horded and significance behind them.
This is one touching tale that touches on mental health and has a cute romantic twist.
The Memory Collector is the perfect read for those who like a book that will bring all the emotions to the table. Although you may want the tissues handy….
Subscribe to Blog via Email
Join 910 other subscribers