I received this book for free from Netgalley in exchange for an honest review. This does not affect my opinion of the book or the content of my review.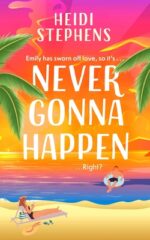 Never Gonna Happen
by
Heidi Stephens
Published by
Headline Accent
on 22 May 2022
Genres:
Fiction
,
Chick-lit
,
Contemporary
,
Romance
Pages:
352
Format:
E-Arc
Source:
Netgalley
Buy on Amazon
Goodreads
'Witty, wise and romantic. Escapist fiction at it's absolute best' KATIE FFORDE'Fun, sexy, and wonderfully escapist, this was a thoroughly enjoyable read!' EMILY STONE'Gorgeously fun . . . the blast of escapism we all need right now!' FIONA GIBSON'The perfect escape for anybody who loves a swoon-worthy hero and a fabulous setting!' ZARA STONELEYEMILY HAS SWORN OFF LOVE. BUT MAYBE IT'S TIME TO GET BACK IN THE SADDLE . . . ?__________________________
Emily Wilkinson has lost everything. Literally. In a hair-straightener fire. Oh, and her boyfriend (and boss) has announced he's going back to his wife. So, she needs a new job, a new plan, and somewhere to live that isn't her childhood bedroom.
Charles Hunter is looking for a live-in PA to help run Bowford Manor and Emily thinks she's the perfect fit. Well, she's spent ten years propping up demanding men, so she can definitely handle some tricky characters - like Charles's eldest son and heir, who's got plans for the estate that might raise a few eyebrows.
No one's mentioned Jamie though. The stable hand - and youngest Hunter. Dashing, of course, but totally unsuitable. And Emily's not about to make that mistake again.
Definitely not. No, really.
A hugely uplifting and totally irresistible romantic comedy that will make you snort with laughter. If you love Sophie Kinsella, Mhairi McFarlane and Sophie Ranald, you don't want to miss this unforgettable page-turner. ___________________________
READERS ARE LOSING THEIR HEARTS TO NEVER GONNA HAPPEN!
'One of my favourite reads so far this year!' Real reader review, ⭐ ⭐ ⭐ ⭐ ⭐
'A five-star readthat will make you fall in love again . . . will be eagerly awaiting what comes next' Real reader review, ⭐ ⭐ ⭐ ⭐ ⭐
'Perfect escapism, humour, a book boyfriend to add to your list and plenty of antics along the way . . . fantastic' Real reader review, ⭐ ⭐ ⭐ ⭐ ⭐
'A brilliant array of characters, a wicked sense of humour [and] the warm fuzzy feelings . . . Heidi Stephens understood the assignment and delivered' Real reader review, ⭐ ⭐ ⭐ ⭐ ⭐
'It's the perfect beach read' Real reader review, ⭐ ⭐ ⭐ ⭐ ⭐
'Perfectly funny and romantic' Real reader review, ⭐ ⭐ ⭐ ⭐ ⭐
'If you're a fan of romcom, this one is for you' Real reader review, ⭐ ⭐ ⭐ ⭐ ⭐
'I loved this and simply could not put it down! Fab read!' Real reader review, ⭐ ⭐ ⭐ ⭐ ⭐
'Beautifully written, full of charm and a story that will capture your heart, this is the perfect read!' Real reader review, ⭐ ⭐ ⭐ ⭐ ⭐
So Never Gonna Happen was the pick me up that I needed. I loved this book from day one. It put a smile on my face and is the sort of book that you cannot put down. There were so many reasons why I loved it.
Firstly, we need to talk about Emily. She was brilliant, strong, smart and determined. I also couldn't not love her when she talked about grabbing a Nando's or having an M&S Can. Just my type of girl. And after going through a bit of a rubbish time, she does need a fairy godmother or a lucky break.
Subscribe to Blog via Email
Join 369 other subscribers