I received this book for free from Netgalley in exchange for an honest review. This does not affect my opinion of the book or the content of my review.
The Player Next Door
by
Elizabeth Davis
Published by
Headline Eternal
on 11 October 2022
Genres:
Fiction
,
Chick-lit
,
Romance
Pages:
384
Format:
E-Arc
Source:
Netgalley
Goodreads
Logan Walsh doesn't do relationships.Clare Thompson doesn't do casual.What could possibly bring them together?
Finance bro Logan and tabletop game designer Clare couldn't be more different. They know this because their apartments face each other, and they've noticed. But not, you know, in a creepy way.
Still, when they get stuck in the elevator together, sparks fly and they each see an opportunity: Clare needs her co-workers to believe that she is capable of a one-night stand to get them to buy into her new role-play character, and Logan needs a steady girlfriend to prove his maturity to his boss.
After one night together, they're keen to get on with their respective plans. Except Clare can't understand why her hook-up seems to want to date her, and Logan is confused that Clare isn't responding to his flirting.
A kiss in the rain might clear up any confusion over their chemistry, but this whole 'relationship' thing is a two-player game, and both want to win. With their hearts and their pride on the line, could the prize be love?
So I was super ready to read The Player Next Door, after hearing such good reviews of Elizabeth previous book.  This was the sort of book that I was after with the usual tropes of friends to loves, guy falls first and reformed lover. Just to name a few!
Clare and Logan are complete opposites of each other, yet one day in the elevator gate entwines them. We get to hear their story from both Clare and Logan's perspective. And each chapter is told in the third person.
The chemistry between these two was on fire and I knew from the very first moment in The Player Next Door  despite their perceived differences they were meant to be together. My only gripe with this whole book is that I spent limited time with KiKi (dog) because she was adorable and she just deserved more time and recognition for the key part that she played in this story.
Throughout the story there were lots of flirty and funny moments. But there were also some hot moments. I was 100% invested in this relationship. Because of the type of book (and how the relationship is started, but no spoilers, promise!) I knew that this would not be plain sailing. And that there would be some ups and downs. For me it took some time for the down to appear. And then it took a long time for it to be over. I was so pleased when Clare and Logan were back on track.
Despite the title, The Player Next Door was such a fun, sweet read. I loved every moment that I spent with Clare and Logan and I really wish that I could spend more time with them. Because their story was so so good! Here's me wishing for a second book.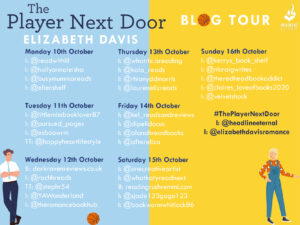 Subscribe to Blog via Email
Join 369 other subscribers