I received this book for free from Netgalley, Publisher in exchange for an honest review. This does not affect my opinion of the book or the content of my review.
Anarchy
by
Megan DeVos
Series:
Anarchy #2
Published by
Orion
on 23 August 2018
Genres:
Dystopia
,
Fiction
,
Young Adult
Pages:
400
Format:
Arc
,
E-Arc
Source:
Netgalley, Publisher
Buy on Amazon
Goodreads
THIRTY MILLION READERS WORLDWIDE. INCLUDES EXCLUSIVE NEVER BEFORE SEEN CHAPTER.

'The Hunger Games meets The Road' MTV

The world is different now.

There are no rules, no governments, and no guarantees that you'll be saved.

Rival factions have taken over, fighting each other for survival with no loyalty to anyone but their own. At 21, Hayden has taken over Blackwing and is one of the youngest leaders in the area. In protecting his camp from starvation, raids from other factions and the threat of being kidnapped, he has enough to worry about before he finds Grace.

The daughter of the head of the rival camp Greystone, she is slow to trust anyone, much less the leader of those she has been trained to kill.

This is danger. This is chaos. This is anarchy.
So the first thing that I saw about Anarchy was that it was the new Hunger Games. Instantly I was desperate to pick it up and read. After all with the Hunger Games is over a decade old – time a new book takes over our lives.
This is a dual aspect story with alternative chapters filling between Grace and Hayden , our two protagonists. Both are on opposite sides. And both tangle in a forbidden love. Let the drama begin.
I really wanted to love this book – I could see the potential, and there is no way that I'm not continuing this series – but I did have a couple of issues. One was the romance. While I do like a bit of romance, when I'm reading a book that promises action I do like that to dominate. But this is only my personal opinion.
If you are after a book that promises action and a tease of romance then I seriously recommend you pick up Anarchy and give it a go.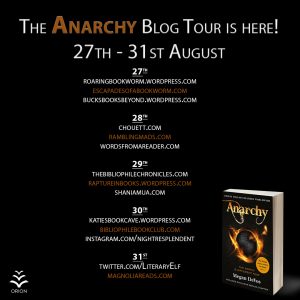 Subscribe to Blog via Email
Join 908 other subscribers