Today I am delighted to be part of the Blog Tour for Breaking Dead by Corrie Jackson with guest post From fashion to crime: writing both ends of the spectrum. I loved this book (check out my review), it was so much better to what I was expecting and I was hooked. And I cannot wait to see what happens next.
Below Corrie talks about how she moved from fashion to crime and its a fascinating piece. And don't forget to check out other blog stops for more exclusive gossip 🙂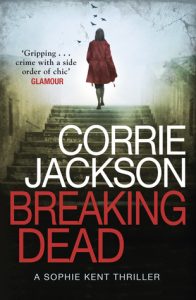 From fashion to crime: writing both ends of the spectrum:
Over a decade on women's magazines has given me a front-row view of the fashion industry in all its Technicolor glory. I've interviewed Kate Moss while Alexander McQueen pinned clothes onto her post-baby body. I've watched seamstresses craft couture dresses that cost more than my car. I've spent 24 hours in Milan with an Italian style icon who owns two apartments: one for her…and one for her wardrobe. Fashion really is the stuff of dreams. But, like any billion-dollar industry, skeletons lurk in its closet.
I was at Grazia when an anorexic model dropped dead of a heart attack during a fashion show, sparking off the whole size zero debate. I was at Glamour when Isabella Blow and Alexander McQueen committed suicide; when gruesome sexual harassment claims against photographer Terry Richardson made headlines; when a depressed Russian model jumped off a building in Manhattan. I've learnt that where there's beauty, glamour and money, there's corruption, violence and greed. So it didn't feel like a stretch to set my crime thriller in the fashion industry.
The idea for Breaking Dead has been brewing since 2006. I was Commissioning Editor at Grazia magazine when two high-profile murders occurred within a fortnight of each other. On the afternoon of September 13, beauty consultant Clare Bernal, 22, was shot dead in Harvey Nichols. Twelve days later 18-year-old model Sally-Anne Bowman was stabbed to death outside her house. My fictional crime reporter, Sophie Kent, remarks that 'some stories are harder to wash out at the end of the day than others'. For me, that's true of the Bernal and Bowman murders. Perhaps because they occurred so close together. Or because the victims were young, female and appeared to lead such glamorous lives. Or perhaps it's simply because the murders coincided with my first experience of 'bringing in the story'. Yep, I was the person responsible for approaching the bereaved family for quotes (an experience that chews you up and spits you out, but one that gives you a humbling insight into an unfolding tragedy). In any case, those two murders buried deep inside my subconscious. Then they rose to the surface a decade later and provided the spark of inspiration for Breaking Dead.
It's surprisingly easy to write both crime and fashion. Just as it's easy to be interested in both. These days I use fashion as an antidote to the bleak, black world I inhabit. Trust me, nothing offsets a particularly upsetting scene like a smash and grab through TheOutnet.com. It reminds me that in a dark world, a world where two young women are butchered twelve days apart, there is also colour and whimsy and light.
Subscribe to Blog via Email
Join 910 other subscribers