For this Movie Musical Challenge I'm using the AFI's 25 Best Musicals List to try and work my way through. The challenge is throughout the year and once watched I'll put my thoughts up on the blog.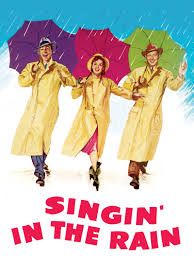 So the  sixth movie for the challenge is Singin' In The Rain (1952), starring  Gene Kelly, Donald O'Connor and Debbie Reynolds.
Last time I wondered how it had taken me so long to watch this epic movie and this time round it was no different. This time I knew what to expect and was able to watch the film in more detail than before.
This is a lighthearted and fun deception of Hollywood in the 1920s during the transition from silent pictures to 'talkies'. Resulting in some hilarious situations and causing some of the dilemmas in the film.
All the songs here are pretty beautiful but my favourites were 'Singin' In The Rain' (obviously), 'Make 'Em Laugh' and 'All I Do Is Dream of You'. The dancing in this movie is also pretty special. And it is hard to imagine that Debbie Reynolds was not really considered a dancer. I thought she kept up with Gene Kelly quite well.
Despite its age this musical still remains as 'fresh' and exciting as when it was first shown. This is definitely a favourite of mine. And one that I can watch again and again.
Subscribe to Blog via Email
Join 910 other subscribers