Welcome to Through the LetterBox. So I think that it is fair to say now that I am a huge fan of  FairyLoot. This is a monthly subscription ya book box based in the UK.
the box:
In each box you can expect:
One recently published Young Adult book,
4-6 goodies often related to the book,
promotional items such as posters, bookmarks and a signed bookplate (whenever possible),
 a unique hashtag that links you up with one other person receiving a box.
The box is £26 plus shipping at £3.95 (if UK based) bringing it to a grand total of £29.95. I wish that the shipping is including in the price because it is like a hidden extra. But I do think that this box is well worth the price.
The May 'Warriors & Legends' box is perfect for people that love The Lord Of The Rings, and any epic fantasy adventure. There is a great variety of high quality and useful items that you are surely going to love – and most of them are exclusive! There will be a total of SIX items, and only one item will be based on a fandom (LOTR).
the unboxing:
 The Book – Flame into the Mist by Renee Ahdieh, including signed bookplate and author letter and bookmark.
Exclusive FairyScoop with author interview and collectable bookmark
Exclusive green tea blend called Warriors & Legends from The Tea Leaf Co – This smells amazing and it looks really pretty as well, so I am quite reluctant to drink it.
Extra Book!! – World Mthology in Bite-sized Chunks by Mark Daniels. As an ex-Archaeology and Classics study this is pretty perfect. And is a lovely introduction to those who want to know more about the world of mythology.
Flame Candle from In The Wick of Time. Its an Opposing Tin Candle, named b the author of the month and two different candles were sent out. Did anyone get mist?
Celtic Socks designed b Fairyloot. Their are a Celtic knot pattern, but the winning fact is that they are socks and you can do no wrong with socks!
Metallic Feather Pen from Flora's Wonder Emporium,. Which is so cute.
One Ring Woodmark from Ink and Wonder. It is so pretty and has a quote from Lord of the Rings on it. Therefore it is utter perfection.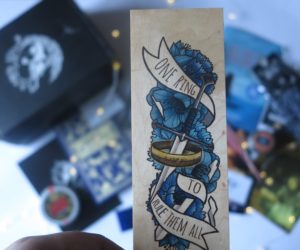 Bonus item  was a Nanodel Sampler
This is the first time that I've loved everything in the box, and it has to be the first time when I cannot pic three favourites. I loved everything!!
Let me know if you've received a Warriors & Legends FairyLoot Box. I'd love to know your thoughts! What was you favourite item? And was there anything you didn't like? 
Subscribe to Blog via Email
Join 910 other subscribers