For this Movie Musical Challenge I'm using the AFI's 25 Best Musicals List to try and work my way through. The challenge is throughout the year and once watched I'll put my thoughts up on the blog.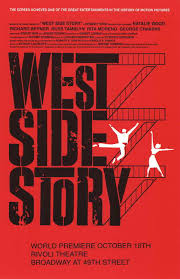 So the second movie for the challenge is West Side Story (1961), starring Natalie Wood, Richard Beymer, Russ Tamblyn, Rita Moreno, and George Chakiris.
I reviewed this last year as part of my 2016 Movie Musical Challenge. And if I am being honest my opinion of this musical has not changed. It is a classic, moving and beautiful, a hypnotic musical that shows that the world is a stage.
Again the gritty undertone of the musical hits home.  As this retelling of a musical west side Romeo and Juliet focuses on gang warfare, racial dispute and crime. Despite the mesmerising dancing and delicious songs.
'Tonight', 'America' and 'I Feel Pretty' are still my three favourite songs in this musical but each song shows off the talent and skills of the cast and story, while keeping the whimsical nature of a classic musical.
This was an atmospheric and addictive watch. With its dazzling choreography and mesmerising scenes this is a musical that is unforgettable with every way. This is a musical that proves that there is such a thing as timelessness.
Subscribe to Blog via Email
Join 369 other subscribers