I received this book for free from Netgalley in exchange for an honest review. This does not affect my opinion of the book or the content of my review.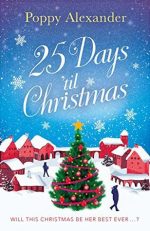 25 Days 'til Christmas
by
Poppy Alexander
Published by
Orion Books
on November 1, 2018
Genres:
Christmas
,
Contemporary
,
Fiction
,
Romance
Pages:
352
Format:
E-Arc
Source:
Netgalley
Buy on Amazon
Goodreads
'a fabulous uplifting, festive, feel-good, joyous read that will leave you smiling from ear to ear.' Netgalley reviewer

Christmas is a time to get together...

Kate Thompson used to love Christmas. But that was before her husband went away with the army and didn't come home. Now she can hardly stand the festive season.

But Kate knows there is more to life than this, and her son Jack needs a Christmas to remember. What she needs is a Christmas miracle, and if there isn't one on its way, she'll just have to make her own.

So begins Kate's advent countdown to the best Christmas ever. She has it all planned out, but you can't plan for the unexpected, and when her life starts to unravel can her friends and the community around her help her save Christmas for all of them...?

Curl up and countdown to Christmas with a heart-warming festive romance, perfect for fans of Jenny Colgan, Debbie Johnson, and Holly Martin.

'A great Christmas read' Netgalley reviewer
With less than 25 Days 'til Christmas, I think that it is high time that I reviewed 25 Days 'til Christmas!!
This was an incredible read that had me hooked. At first I thought that this was a light, fluffy read. But while it was filled with the magic and expectation of Christmas, there were some deeper threads running throughout.
Kate is not a great fan of Christmas, ever since her husband passed away and she is left to raise their young son on her own. This has meant that the last four years of Christmas hasn't really been celebrated. But this year that is all going to change with a twist on the classic Advent Calendar.  Each day the Calendar will  provide a christmassy event for Kate and her son to do together. Which means some very cute moments.
And then there is Daniel, this is the first Christmas without his sister. He has always been a secret fan of Kate. Going past her every Christmas, he has a nickname for her and looks forward to each day  that he gets to see her.
This Christmas will he be able to pluck up the courage and actually speak to Kate, or will another year and a golden opportunity pass him by.
I loved the passion, enthusiasm and joy that fills this book on every single page.  This is a book filled with some heart-warming scenes that touches on some hard-hitting moments. This was a beautiful book and well worth a read in the run up to the Christmas season along with a cup of tea and a mince pie or two….
Subscribe to Blog via Email
Join 905 other subscribers