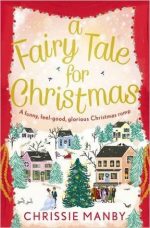 A Fairy Tale for Christmas
by
Chrissie Manby
Published by
Hodder
on November 3, 2016
Genres:
Chick-lit
,
Christmas
,
Fiction
,
Romance
Pages:
432
Format:
Paperback
Source:
Publisher
Buy on Amazon
Goodreads
A wonderful, heartwarming and funny Christmas novel from Chrissie Manby, perfect for curling up with in front of the fire.

What could be more magical at Christmas than a fairy tale come true?
It's the festive season and the members of the Newbay Theatre Society, more commonly known as the NEWTS, are preparing to put on a show. Being cast as Cinderella is the realization of a dream for newcomer Kirsty, not least because she hopes starring in a panto under the direction of her boyfriend Jon will bring them closer together.
But Kirsty soon learns that it's not all glitter and good cheer behind the scenes at the amateur theatre as bitter rivalries nurtured through decades, wardrobe mishaps and suspicious near-fatal accidents threaten to derail the production. And then there's Prince Charming himself. Will working together with Jon bring Kirsty her happy ever after... or reveal their love to be nothing but a 'showmance'?
With Christmas just around the corner, it's going to take more than a Fairy Godmother to get Kirsty and her cast-mates to the ball.
What was brilliant about A Fairy Tale for Christmas was the different ways in which it parodied Cinderella. There was the awkward love triangle, a stepmother and the required help from a fairy godmother. But who is actually Prince Charming?
This was a quick read. And the chapters are nice and short so if you can only snatch a couple of minutes of reading time this is is perfect for you.  The short chapters made the book fly by and it didn't take long to devour.
I thought that the second half was better than the first half as everything went full steam ahead. But I loved the romance, the show, the whole cast. I wish that we had seen a bit more of India – Kirsty's half sister – she seems like a wild cracker and a bit fun to be around.
For me the title of the book is what hooked me. The title intrigued me and made me excited for the magic and it left me with a big smile on my face and a warm happy feeling.
An unputtdownable book filled with laughs, wit, and hilarious moments hashtag amazing. A Fairy Tale for Christmas is sprinkled with glitter and magic to get you in the festive mood!
Subscribe to Blog via Email