I received this book for free from Netgalley in exchange for an honest review. This does not affect my opinion of the book or the content of my review.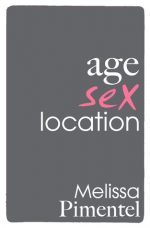 Age, Sex, Location
by
Melissa Pimentel
Published by
Penguin
on January 29, 2015
Genres:
Chick-lit
,
Fiction
,
Romance
Pages:
480
Format:
E-Arc
Source:
Netgalley
Buy on Amazon
Goodreads
A hilarious and refreshingly honest foray into modern dating, Age, Sex, Location is Bridget Jones's Diary for HBO's Girls generation.
An American living in London, Lauren is intelligent, beautiful and loves to party. So why can't she convince a man she isn't after something more serious than scrambled eggs and goodbye in the morning?
Determined to snare some regular male affection, she embarks on a project: each month she will follow the rules of a different dating guide - from refusing to pay the bill to chatting up every man in her path - and will switch seamlessly to the next book at the end of each month.
Lauren's love life is about to get scientific . .
Age Sex Location is a hilarious book as Lauren diaries her success rate with different dating guides each month. Each dating guide is completely different, nor does Lauren choose the most current guide – some come from the Victorian era, others from the 50s and other modern in tone.
All these result in Lauren drastically changing her approach each month with some hilarious results – one of my favourite scenes was the substitute boat party. I was in stitches over this scene.
This is a modernised take on the classic dating conundrum. The idea of a dating game is not new – as it compares in the blurb it is similar in theme to Bridget Jones's Diary and HBO's Girls. But using dating guides provides a fresh take on the chick-lit genre.
Age Sex Location is a funny and enjoyable read, with a witty and relatable protagonist, who attempts to make the dating world a lot more formalised as she ponders over who the dating guides will work on and will she ever get out of her dating rut?
Subscribe to Blog via Email
Join 369 other subscribers