I received this book for free from Netgalley, Publisher in exchange for an honest review. This does not affect my opinion of the book or the content of my review.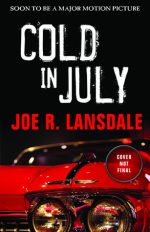 Cold in July
by
Joe R. Lansdale
,
Jim Mickle
Published by
Tachyon Publications
on May 27, 2014
Genres:
Fiction
,
Mystery
,
Thriller
Pages:
288
Format:
E-Arc
Source:
Netgalley, Publisher
Buy on Amazon
Goodreads
A shocking crime mystery to chill the even the warmest summer's night, this gritty Texan thriller inspired the 2014 major motion picture Cold in July, featuring Michael C. Hall (Dexter) Sam Shepard (Black Hawk Down), and Don Johnson (Miami Vice).
Richard Dane has killed a man. Everyone in the small town of LaBorde, Texas knows Dane acted in self defense — everyone except Ben Russel, the father of the criminal who invaded Dane's home.
When Russel comes looking for revenge against Dane's family, the two fathers are unexpectedly drawn into a conspiracy that conceals the vilest of crimes. Surrounded by police corruption, mafia deception, and underworld brutality, Dane, Russel, and eccentric PI Jim Bob Luke have discovered a game they may not survive.
Cold in July is a re-release of the original 1989 book, to tie in with the film. A hard nut thriller, which somehow, quite touchingly, explores the father/son relationship. On the outside this novel appears to be quite hard-hitting but in reality there is a softness and subtlety to it.
Dane is an ordinary man, whose life is shaken up and changed when he acts in self-defence and kills the man burglarizing his home. He wants to get on with his life and feel yet at the same time he has questions which needs to be answered. Will joining forces with Jim Bob and Russel help him? Or will he be drawn down a darker path than originally intended?
I was engrossed from start to finish. Lansdale has created a suspenseful novel filled with likable and funny characters, that caused me to laugh out loud. But hidden away in the thrill of the chase is a subtle message about family and relationships and how sometimes you have to make your own choice when it comes to answers – how much do you really want to know?
Cold in July started as a slow read, but quickly became a fast and thrilling ride.
Subscribe to Blog via Email
Join 369 other subscribers