I received this book for free from Netgalley in exchange for an honest review. This does not affect my opinion of the book or the content of my review.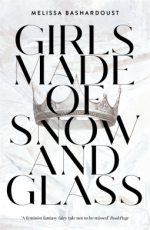 Girls Made of Snow and Glass
by
Melissa Bashardoust
Published by
Hodder & Stoughton
on April 14, 2020
Genres:
Fantasy
,
Fiction
,
Retelling
,
Young Adult
Pages:
384
Format:
E-Arc
Source:
Netgalley
Buy on Amazon
Goodreads
ONLY ONE CAN BE QUEEN
'A feminist fantasy fairy tale not to be missed' BookPage
Sixteen-year-old Mina is motherless, her magician father is vicious, and her silent heart has never beat with love for anyone. In fact, it has never beat at all, for her father cut it out and replaced it with one of glass. When she moves to Whitespring Castle, Mina forms a plan: win the king's heart with her beauty, become queen, and finally know love. The only catch is that she'll have to become a stepmother.
Fifteen-year-old Lynet looks just like her late mother, and one day she discovers why: a magician created her out of snow in the dead queen's image. Lynet would rather be like her fierce and regal stepmother, Mina, but when her father makes her queen of the southern territories, Mina starts to look at Lynet with something like hatred, and Lynet must decide what to do - and who to be - in order to win back the only mother she's ever known . . . or else defeat her once and for all.
'An empowering and progressive original retelling' School Library Journal
'Utterly superb' ALA Booklist
'Dark, fantastical, hauntingly evocative' Kirkus
Girls Made of Snow and Glass is a retelling of Snow White. And it does exactly what is says on the title. Tell a tale of Girls Made of Snow and Glass.
Told from the alternative perspectives of Mina and Lynet. The storyline is non-linear as Mina is slightly older than Lynet so we have to wait for Mina to catch up. And I much preferred Lynet story. I was waiting for Mina to get over herself but it never really happened.
For me the story fell a little flat. The 'big reveal' is in the title, so there is no spoilers here or real suspense. There is only a fizzle of anticipation as you wait for the two to realise what they are made of. And then you are left feeling slightly flat. And a bit cheated…
Okay so the last 30% of the book wasn't bad. While we knew how it was going to pan out (I have mentioned that its a retelling), the how caused some excitement. There was something about the book that made me keep reading. Something that meant that even though I could have happily put down this book on several occasions I kept going. I'm not really sure why. Maybe it was hope that things would improve. May be it was hope that I'd missed something.
Despite my lack of warm response to this book, I have got the next book by the author to read. And I am actually looking forward to reading it. To be honest if you are after a retelling of Snow White then this is the book for you. If you are after something completely different then I suggest that you look elsewhere.
Subscribe to Blog via Email
Join 369 other subscribers