I received this book for free from Netgalley in exchange for an honest review. This does not affect my opinion of the book or the content of my review.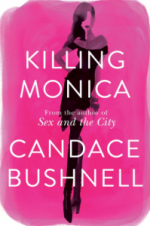 Killing Monica
by
Candace Bushnell
Published by
Little Brown Book
on June 23, 2015
Genres:
Chick-lit
,
Contemporary
,
Fiction
Pages:
320
Format:
E-Arc
Source:
Netgalley
Buy on Amazon
Goodreads
This is the book fans of Candace Bushnell have been waiting for. From the author of Sex and the City, Lipstick Jungle, and The Carrie Diaries comes an addictive story about fame, love, and foolishness that will keep readers enthralled to the very last enticing scene.
Pandy "PJ" Wallis is a renowned writer whose novels about a young woman making her way in Manhattan have spawned a series of blockbuster films. After the success of the Monica books and movies, Pandy wants to attempt something different: a historical novel based on her ancestor Lady Wallis. But Pandy's publishers and audience only want her to keep cranking out more Monica-as does her greedy husband, Jonny, who's gone deeply in debt to finance his new restaurant in Las Vegas.
When her marriage crumbles and the boathouse of her family home in Connecticut goes up in flames, Pandy suddenly realizes she has an opportunity to reinvent herself. But to do so, she will have to reconcile with her ex-best friend and former partner in crime, SondraBeth Schnowzer, who plays Monica on the big screen-and who may have her own reasons to derail Pandy's startling change of plan.
In KILLING MONICA, Candace Bushnell spoofs and skewers her way through pop culture, celebrity worship, fame, and the meaning of identity. With her trademark humor and style, this is Bushnell's sharpest, funniest book to date
I wanted to love this book, I really did, but I was just left with an impression of screaming banshees due to the sheer amount of screaming the women in Killing Monica seem to do. They scream with laughter, scream at one another, but somehow in a jolly hockey sticks this is fun kind of way. It was far too much for me.
Also I cannot help but wonder whether Bushnell is spoofing her own life, and is wishing to kill Carrie Bradshaw, her own character that eclipsed the author? Also to state that this is Bushnell at her best, is laughable and feels like a lie.
For me the ending left me feeling unhappy and a little disgusted, the big reveal was unnecessary and the whole situation with killing Monica was ludicrous. I couldn't have got on board with this idea even if I tried.
In a way I am surprised that I managed to hold out to the end. But despite my complaining I was intrigued into how Monica was actually going to be killed. Unfortunately that final plot line was to ridiculous and unbelievable. But how it happened, the beginning bit of killing Monica was probably the best bit of the book.
I had such high hopes for this book. Unfortunately I was bitterly disappointed. This is one book that I certainly won't be picking up again.
Subscribe to Blog via Email
Join 910 other subscribers