I received this book for free from Netgalley in exchange for an honest review. This does not affect my opinion of the book or the content of my review.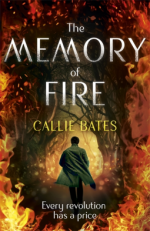 The Memory of Fire
by
Callie Bates
Series:
The Waking Land #2
Published by
Hodder & Stoughton
on May 17, 2018
Genres:
Fantasy
,
Fiction
,
Young Adult
Pages:
464
Format:
E-Arc
Source:
Netgalley
Buy on Amazon
Goodreads
Magic. Romance. Revolution. The sequel to the bold and gorgeous The Waking Land.

'Bates is an author well worth watching' Robin Hobb

Jahan Korakides is the hero who saved the life of the crown prince in battle, helped win the revolution in Eren and earned the heart of Elanna, the legendary Wildegarde reborn.

But Jahan Korakides is also broken; haunted by memories of the woman who experimented on him and his brothers as children.

So when the empire threatens war in retribution for Elanna's illegal sorcery, Jahan leaves Eren to negotiate with the emperor on Queen Sophy's behalf. But the world he left has changed - riots rock the city of Ida, his brother is missing and the crown prince refuses to speak to him.

Jahan's only hope of success seems to lie with the rebels in Ida. Yet, if he joins them, he will merely spur on the war he's desperate to avoid, and risk revealing himself as a sorcerer.

And then the witch hunters arrive at court, bringing Elanna in chains.
Memory of Fire was ten times better than The Waking Land. However you do need to read the first to appreciate this book. We are thrown straight into where we left off the first time. So it is fast-paced and action-packed from the first word.
I liked that there was a complete change in point of view, in The Waking Land everything was told from Elenna point of view. Whereas here, the story is told from Jahan's perspective. This way some Jahan's previous behaviour is explained as we learn about his history. Torn between his past, saving his brothers and a potential war. Jahan finally accepts a part of him, he has kept hidden for so many years. His magic.
This allows us to understand the complexity of the politics of the world and the ingrained hatred of magic. There is a complex system in place to suppress magic and control the population. As the witch-hunters and their methods are explored in more detail.
Memory of Fire is an expansive tale, that goes beyond what we expected in The Waking Land. This is a captivating tale that will sweep you up and transport you to another world. Luckily, the ending seems to imply that there is a potential third book and I would definitely pick it up in a heartbeat, because I just want the story to go on forever.
Subscribe to Blog via Email
Join 905 other subscribers