I received this book for free from Netgalley in exchange for an honest review. This does not affect my opinion of the book or the content of my review.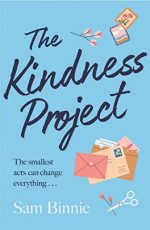 The Kindness Project
by
Sam Binnie
Published by
Headline
on July 8, 2021
Genres:
Contemporary
,
Fiction
Pages:
336
Format:
E-Arc
Source:
Netgalley
Buy on Amazon
Goodreads
Help the baker's ex-wife widowFind the true calling for the village shop owner Call a truce on a decades-old feudForgive me...?
The locals of the Cornish village of Polperran are grieving the sudden loss of Bea Kimbrel, a cornerstone of their small community.
Now her reclusive, estranged daughter Alice has turned up, keen to tie up Bea's affairs and move on.
But Alice receives a strange bequest from Bea - a collection of unfinished tasks to help out those in Polperran most in need.
As each little act brings her closer to understanding her mother, it also begins to offer Alice the courage to open her clamped-shut heart. Perhaps Bea's project will finally unlock the powerful secrets both women have been keeping...
THE KINDNESS PROJECT will draw you deep into the lives of two compelling women who should never have missed their chance to say goodbye. It will break your heart - and piece it back together again...
So The Kindness Project was a book that I had to warm up to. At first I was not very keen on Alice. She was uptight and boring. And I felt it very hard to connect to her.  But I persisted and slowly became invested.
For me there were a lot of memories to shift through, that couldn't capture my attention There was the odd warm funny comment, that kept me reading, but it was probably the last 25% that I loved. Once we got to know more of the villagers and their life stories. These were the people who mattered to me.
But slowly, ever so slowly Alice comes out of her shell and starts to open up to those around her. She slowly starts to take pleasure in the small things in life. Cake, walks on the beach and swimming. Alice takes great pleasure in swimming before dawn and finds it very calming and very therapeutic. And then Sam Binnie obviously find it very awarding as well. So do you swim before dawn or are tempted to all? Personally  it is not very tempting for me.
Throughout Alice has to achieve small tasks left by her mother Bea, as part of her will. These tasks allowed Alice to grow in confidence. And to learn more about her mother, the village and what it means to be part of a family. So many secrets were kept from Alice and by the end I felt sorry for her. She definitely would have been a different person if her parents had been more open.
The Kindness Project was a book about how even the most smallest of actions can have consequences. And how to heal you have to open yourself up even just the smallest of bits. If you can get through the beginning this is a book that can warm your heart.
Subscribe to Blog via Email
Join 369 other subscribers