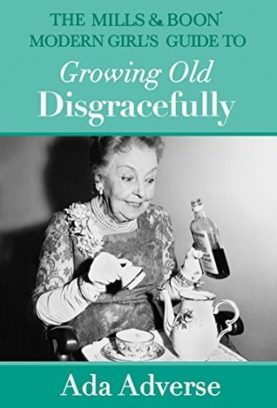 Mills & Boon Modern Girl's Guide to Growing Old Disgracefull by Ada Adverse
Series: Mills & Boon A-Zs,
Published by Harlequin Mills & Boon, Limited on May 18th 2017
Genres: Novella
Pages: 96
Format: Hardback
Source: Publisher
Buy on Amazon
Goodreads

'Perfect for the gin drinker in your life.' - Sun
Have you ever:
Treated afternoon tea as an 'all you can eat' opportuntity?
Realised you only ever hoover when you are expecting guests?
Flatly refused to 'act your age'?
If so, the Mills & Boon Modern Girl's Guide to Growing Old Disgracefully is for you: a guide to throwing out the rule book, with a feminist twist
This is another fun list from Mills and Boon. All about growing old. And lets be honest everyone grows old, we grow old ever day. Some of us just need a few tips in that department. Or two…. And if we are being perfectly honest it's not about growing old disgracefully it is all about growing old with style. Even if a bit of finesse is missing.
This A-Z listing of hilarious and as usual an over the top guide. Every page was neatly defined in the vintage pictures. Both words and images managed to define the amusing side of motherhood perfectly.
This is a quick easy read that you can dip into as the mood takes you. Every page had something to laugh at, something to make me smile. This would be the perfect gift for anyone, any time in the year.
Subscribe to Blog via Email