I received this book for free from Publisher in exchange for an honest review. This does not affect my opinion of the book or the content of my review.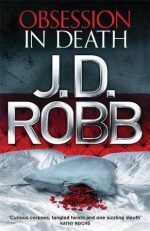 Obsession in Death
by
J.D. Robb
Series:
In Death #40
Published by
Piatkus Books
on February 19, 2015
Genres:
Fiction
,
Mystery
,
Romance
,
Suspense
Pages:
404
Format:
Hardback
Source:
Publisher
Buy on Amazon
Goodreads
There's a thin line between hero worship and dangerous obsession...the explosive new Eve Dallas and Roarke thriller
A crisp winter morning in New York. In a luxury apartment, the body of a woman lies stretched out on a huge bed. On the wall above, the killer has left a message in bold black ink: FOR LIEUTENANT EVE DALLAS, WITH GREAT ADMIRATION AND UNDERSTANDING.
Eve Dallas is used to unwanted attention. Famous for her high-profile cases and her marriage to billionaire businessman Roarke, she has learned to deal with intense public scrutiny and media gossip. But now Eve has become the object of a singular and deadly obsession. She has an 'admirer', who just can't stop thinking about her. Who is convinced they have a special bond. Who is planning to kill for her - again and again...
With time against her, Eve is forced to play a delicate - and dangerous - psychological dance. Because the killer is desperate for something Eve can never provide - approval. And once that becomes clear, Eve knows her own life will be at risk - along with those she cares about the most.
Don't let Obsession in Death being the 40th(!) book in the series intimidate you. This is a book which will give you instantaneous pleasure, whether you have been a devotee from the beginning or are a newbie looking for a great read. No matter what this should tickle your fancy.
The very essence of this book allows the reader to look over past cases (pass novels) in an attempt to understand the killer's motive without the worry of not reading the previous novels. Even as a newbie myself, I was still able to see how far Eve as a character had grown and how the stories had changed over time.
Before reading Obsession in Death all I knew was that J.D. Robb was the crime writing pseudonym for romance author Nora Roberts so I was interested to see how these two style would combine. There was more romance than I anticipated but it was nice to see something a little different, something to take the edge off of the whole killing thing.
This is a page turner, showing just how much an obsession can become too extreme. A fixation where a killer offers up a dead victim as homage. Not only is this really creepy but how long will it take for the killer to realise that Eve does not want this? And is in fact trying to track the killer down before it is too late.
This  is perfect whether your in the mood for romance or a little bit of crime solving!
Subscribe to Blog via Email
Join 369 other subscribers