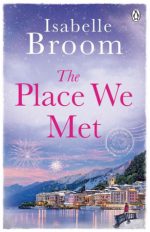 The Place We Met
by
Isabelle Broom
Published by
Michael Joseph
on November 30th 2017
Genres:
Chick-lit
,
Contemporary
,
Fiction
,
Romance
Pages:
406
Format:
E-Arc
Source:
Netgalley
Buy on Amazon
Goodreads
Heartbreak, humour and romance set in Italy's beautiful and dramatic Lake Como. Under dazzling New Year's Eve fireworks, two women hope for new beginnings . . .

'Utterly romantic' Adele Parks, bestselling author of The Image of You

Taggie is only a few months into her job as a tour guide in Lake Como. She's rushed off her feet, but distraction is what she needs to forget why she left England.

Lucy arrives at Lake Como with her perfect new boyfriend, Pete. Falling fast in love, she's sure that life is about to start for her, it feels so right with him.

But as New Year's Eve approaches and the women meet by chance, it becomes clear this isn't the perfect place of new beginnings. While Lucy is willing to do anything to keep hold of Pete, the past Taggie so desperately wanted to escape is catching up with her . . .
So to briefly sum up, this is another captivating read by Isabella Broom. The Place We Met manages to sweep the reader of their feet and land them in a tale that is both heartbreaking and heartwarming, while also being delicious enough to curl with a hot chocolate.
The Place We Met is a tale of two women – Taggie who is determined to forget about the past and focus on her skills on organising big events. And Lucy who just wants the perfect relationship with her boyfriend. Both women are led to Lake Como – a place that holds special meaning from their childhoods.
This book is pretty close to perfect, especially as the setting is so idyllic (Italy is one of my favourite places to visit). And we are set in Christmas time, which means Snow and fun Chrissmassy things which makes me very happy.
But for all the light and funny moments in this tale, there is a lot of dark moments. And my heart nearly broke at the end. When everything was revealed. The Place We Met shows the art of deception. Because how the book started to how it ended, I really was not expecting that.
This is a story about love, loss and heartbreak. But it is also a book about accepting yourselves and allowing yourself to heal. This is a beautiful read and one that I cannot wait to read again.
Subscribe to Blog via Email
Join 369 other subscribers