I received this book for free from Netgalley in exchange for an honest review. This does not affect my opinion of the book or the content of my review.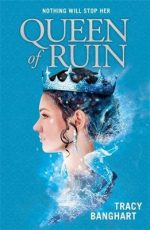 Queen of Ruin
by
Tracy Banghart
Series:
Grace and Fury #2
Published by
Hachette Children's Group
on July 2, 2019
Genres:
Fantasy
,
Fiction
,
Young Adult
Pages:
340
Format:
E-Book
Source:
Netgalley
Buy on Amazon
Goodreads
Nomi and Malachi find themselves powerless and headed towards their all-but-certain deaths. Now that Asa sits on the throne, he will stop at nothing to make sure Malachi never sets foot in the palace again.
Nomi's sister, Serina, is far away on the prison island of Mount Ruin - but it is in the grip of revolution and Serina leads. The women there have their sights set on revenge beyond the confines of their island prison. They will stop at nothing to gain freedom for the entire kingdom. But first they'll have to get rid of Asa, and only Nomi knows how.
Separated once again, this time by choice, Nomi and Serina must forge their own paths as they aim to tear down the world they know, to build something better in its place.
I was super excited to read Queen of Ruin having read and loved Grace and Fury only minutes before I picked this up.
We start directly from where we left off with Grace and Fury. With the two sisters having to deal with the disasters consequences of previous events. But it is these events that define them and they go from strength to strength. Becoming the strong, powerful leaders required to control the situation.
Out of both of them I preferred Nomi's story. It was subtler and less brutal. Also we got to find out more about Malachi and Renzo which was a plus. Mainly because we got a better understand on the hierarchy of this world and a much larger view. Instead of being set in two places – the place and Mount Ruin, we also got the coast and the sisters hometown and everything in between.
For me, while I loved the story, the telling of it felt rushed. Like there should have been a third book but instead the action was crammed into one. I'm not complaining because it was an action packed read. But I felt like a longer book was necessary to stop the ending from being rushed.
And there is so much more to happen. I wish that there had been an epilogue either a few months or years down the line. Just to see the changes. But may be there is a third book? (I don't think there will be but here's hoping!).
Queen of Ruin was a quick read, that finished the duology in a satisfying way. While not up to the standard of its predecessor and with so much potential left to give this is more likely to only satisfy those who are fans of the first book. Otherwise I am demanding more please!
Subscribe to Blog via Email