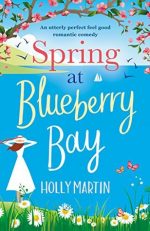 Spring at Blueberry Bay
by
Holly Martin
Series:
Hope Island #1
Published by
Bookouture
on April 7th 2017
Genres:
Fiction
,
Romance
,
Romantic Comedy
,
Contemporary
Pages:
353
Format:
E-Arc
Buy on Amazon
Goodreads
Welcome to beautiful Hope Island where the sea sparkles, the daffodils are blooming and a blossoming romance is just around the corner…

Bella has always had a sunny outlook and caring nature, despite recently falling on hard times. When she finds a handsome homeless man on her doorstep, her kind heart tells her she must help him. So, she invites Isaac into her cottage and into her life in ways she could never have imagined…

But Isaac is not what he seems. He's keeping a huge secret from Bella, yet he never expected to fall for this open, generous and charming woman.

Bella can't ignore the chemistry between her and Isaac, but she's had her trust badly broken in her past. Will she run when she learns the truth about Isaac, or will he be the one man who can help Bella believe in love again?

A gorgeously romantic and heartwarming story to completely lose yourself in. Perfect for fans of Sarah Morgan, Jane Costello and Miranda Dickinson.
Every time I read a Holly Martin book I fall more and more in love. As always Spring at Blueberry Bay was an easy book to pick up, get lost in and fall in love with. Every page of this book was delicious and impossible to put down.
The characters may be quirky and overly honest but they are each brilliant and lovable in their own way. Each time they made me fall in love with them again and again. I fell in love with Issac at the same time as Belle – page one. He was adorable, and kind and generous. He was the perfect gentleman.
I loved that most of the story was told from Belle's perspective with only the occasional, and very rare, thought from Issac. She gave me all the feels of a perfect romance. And I loved that nothing was easy or straight-forward, they both have flaws that they need to work on. Their relationship is like a roller coaster. Luckily there are more ups than downs.
And I loved the supporting cast. I cannot wait to see more of these guys – especially Eden and Dougie (please let these two be the main couple in the next book). All of them made me want to reach out and as them to be my friends. I also loved Camille, Issac's PA who always turned up at the right moments to save the day. Or to just let Bella and Issac get on with their relationship. She never stood in their way.
The setting was incredible – I've never been to the Scilly Isles but they sound idyllic and picturesque. And lots of sunshine. Which is always important. Add the fact that this is an island, not that close to the mainland means that there is a certain uniqueness to the tale.  Although being a small community means that everyone knows everyone's business and has an opinion. And this is no different.
Spring at Blueberry Bay was a beautifully written tale, that was funny and well thought out. A charming tale that will always find a way into my heart. Swoonsome, flirty and downright  gorgeous this is one book I promise that you do not want to miss out on.
Subscribe to Blog via Email
Join 369 other subscribers