I received this book for free from Netgalley in exchange for an honest review. This does not affect my opinion of the book or the content of my review.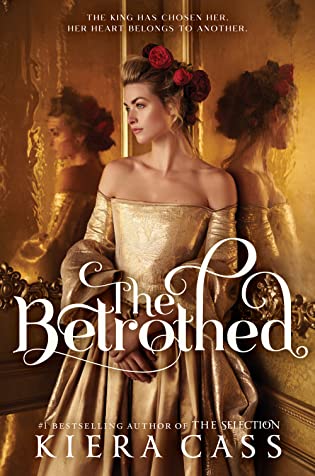 The Betrothed
by
Kiera Cass
Series:
The Betrothed #1
Published by
HarperCollins Children's Books
on May 5, 2020
Genres:
Fiction
,
Romance
,
Young Adult
Pages:
400
Format:
E-Arc
Source:
Netgalley
Buy on Amazon
Goodreads
When King Jameson declares his love for Lady Hollis Brite, Hollis is shocked—and thrilled. After all, she's grown up at Keresken Castle, vying for the king's attention alongside other daughters of the nobility. Capturing his heart is a dream come true.
But Hollis soon realizes that falling in love with a king and being crowned queen may not be the happily ever after she thought it would be. And when she meets a commoner with the mysterious power to see right into her heart, she finds that the future she really wants is one that she never thought to imagine.
As soon as I had The Betrothed in my hands I had to start reading. I loved The Selection series so I knew that I was in for a treat.
Before I begin, having read all the way through, this is not much like The Selection series. Yes there are gorgeous dresses, lots of jewels and stunning moments. But there is a darker undertone throughout that makes it different in so many ways. Including what I was expecting.
From page one I was engrossed. And I was desperate to see what would happen. Especially between Hollis and King Jameson. I did really like Jameson, I felt like he had good intention and it was just him being King that got in the way of him showing his true feelings. I know that we were meant to be rooting for Silas.
But in every situation thrown at Hollis, she follows her heart. No matter what pressure is put on her. From her family, her friends, and even to some extent herself. She does what she believes in and remains true to herself.
And it is at this point, when she decides to follow her heart that the story actually starts. Before it was all about pretty dresses, grand gestures and beautiful moments. And yes I have to be honest at the beginning The Betrothed felt very must like The Selection but in the end it was completely different.
And with that ending, I honestly cannot wait another year to read the next book. While it did not have a cliffhanger (of which I am incredibly grateful for!), there is an air of anticipation for what will happen next. I honestly cannot think of what will occur but I am excited to see what happens.
The Betrothed was everything I wanted and also not. It was the book that I needed in my life until it went dark. But I cannot wait to meet Hollis again and see what she will achieve.
Subscribe to Blog via Email
Join 910 other subscribers