I received this book for free from Netgalley, Publisher in exchange for an honest review. This does not affect my opinion of the book or the content of my review.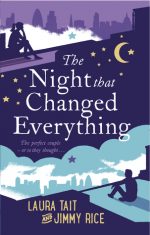 The Night That Changed Everything
by
Laura Tait
,
Jimmy Rice
Published by
Corgi
on March 24, 2016
Genres:
Chick-lit
,
Children's
,
Fiction
Pages:
416
Format:
E-Arc
,
Paperback
Source:
Netgalley, Publisher
Buy on Amazon
Goodreads
Rebecca is the only girl she knows who didn't cry at the end of Titanic. Ben is the only man he knows who did. Rebecca's untidy but Ben doesn't mind picking up her pieces. Ben is laid back by Rebecca keeps him on his toes. They're a perfect match.
Nothing can come between them. Or so they think.
When a throwaway comment reveals a secret from the past, their love story is rewritten.
Can they recover from the night that changed everything? And how do you forgive when you can't forget?
The Night That Changed Everything is a funny, feel-good and bittersweet story, told in alternate chapters by Laura Tait and Jimmy Rice.
I adored The Night That Changed Everything so much, that it was a bit of a shock when it came to an end. To be honest I really could have kept reading for ages and ages.
I loved the fact that the story was told in alternative chapters, written by alternative authors. In my head I didn't think that it would work. But it did. The whole effort was seamless and perfect, yet also distinct. 
And the authors really know how to work emotion. I laughed, I cried, I became angry, I became sad. Basically this was as much as an emotional roller-coaster for me as it was for the characters. And what a journey this was, there are actually three nights that change everything, the night they met, and two nights that changed everything. It just goes to show how quickly everything can change for better or for worse. Despite everything that you think.
And as the events unfold, you yourself will be wondering, what would I do in that situation? It's hard to know if you would react the same or go down a completely different path. Questions, questions…
This was an adorable, comfortable and unexpected exceptionally great read. I loved and adored this book. There were some great characters to love and to hate, tender moments and a spectacular story. This is one book you do not want to miss out on reading.
Subscribe to Blog via Email
Join 910 other subscribers