I received this book for free from Netgalley in exchange for an honest review. This does not affect my opinion of the book or the content of my review.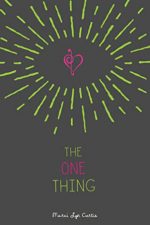 The One Thing
by
Marci Lyn Curtis
Published by
Disney-Hyperion
on September 8, 2015
Genres:
Contemporary
,
Fiction
,
Young Adult
Pages:
336
Format:
E-Book
Source:
Netgalley
Buy on Amazon
Goodreads
Maggie Sanders might be blind, but she won't invite anyone to her pity party. Ever since losing her sight six months ago, Maggie's rebellious streak has taken on a life of its own, culminating with an elaborate school prank. Maggie called it genius. The judge called it illegal.
Now Maggie has a probation officer. But she isn't interested in rehabilitation, not when she's still mourning the loss of her professional-soccer dreams, and furious at her so-called friends, who lost interest in her as soon as she could no longer lead the team to victory.
Then Maggie's whole world is turned upside down. Somehow, incredibly, she can see again. But only one person: Ben, a precocious ten-year-old unlike anyone she's ever met.Ben's life isn't easy, but he doesn't see limits, only possibilities. After awhile, Maggie starts to realize that losing her sight doesn't have to mean losing everything she dreamed of. Even if what she's currently dreaming of is Mason Milton, the infuriatingly attractive lead singer of Maggie's new favorite band, who just happens to be Ben's brother.
But when she learns the real reason she can see Ben, Maggie must find the courage to face a once-unimaginable future... before she loses everything she has grown to love.
So in The One Thing, Maggie was a character that I could root for. She is a heroine with sass and wit. Perhaps more importantly I loved how she grew and pardon the phrase 'went on a journey', moving on from the strained and uncomfortable relationships with her family and friends to embracing life.
And then there is Ben. He was a character of pure joy. He is adorable and up-beat and every time his character is on the page I had a big goofy smile on my face. His heart is just so big! It was an endearing quality.
And when I found out why Maggie could see certain people. It was so unexpected that really, and quite unfortunately, I can't quite put it into words. In a way, I didn't really get why the reason why Maggie could see. It was an extra element wasn't really explained and in a way wasn't really needed.
The One Thing was a funny sweet book. And it was the little bit of mystery that kept me going throughout. A funny, thought-provoking read, which is pretty good if you ask me.
Subscribe to Blog via Email
Join 910 other subscribers