I received this book for free from Netgalley, Publisher in exchange for an honest review. This does not affect my opinion of the book or the content of my review.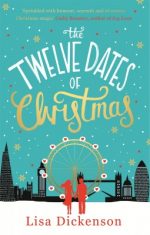 The Twelve Dates of Christmas
by
Lisa Dickenson
Published by
Sphere
on October 22, 2015
Genres:
Children's
,
Christmas
,
Fiction
,
Romance
Pages:
384
Format:
E-Arc
,
Paperback
Source:
Netgalley, Publisher
Buy on Amazon
Goodreads
*WINNER OF THE NOVELICIOUS DEBUT OF THE YEAR AWARD*
At thirty, Claudia's life is stale and the romance with long-term boyfriend, Seth, has disappeared. Determined to inject some festive spark back into their love life, Claudia and Seth go on their first date in a very long time. But when the night ends in disaster, Claudia suddenly finds herself facing life - and Christmas - alone.
Life alone is exciting, scary and full of soon-forgotten exercise regimes and ill-advised attempts at crafting sexy underwear. It's also filling up with dates, surprisingly. With best friends Penny and Nick at her side, a surplus of festive markets, mulled wine and Christmas tunes, Claudia attempts to face all this change with gusto. One thing's for certain: this year, Christmas is going to be very different . . .
This is the story of Claudia and her twelve dates of Christmas. Hilarious, uplifting and romantic, it's a story about losing love, finding love, and discovering what's been there all along. Expect Christmas sparkle, butterflies-in-your-stomach romance and a lot of very funny moments in The Twelve Dates of Christmas.
Throughout The Twelve Dates of Christmas I couldn't help but grin at the complete and utter cuteness and perfection of Christmas. I really really want my Christmas to end up like this.
Nick was so cute with his enthusiasm for Christmas, he was like an excitable puppy, and he managed to make me love Christmas more – something I had previously considered an impossibility. I also loved Penny, I thought she was the person who held the group together, sensible and motherly. And I adored Claudia, although some of the decisions she makes are a little questionable…
I loved the idea that the story is told over the 12 'dates' of Christmas, in other words the 12 dates that Claudia goes on. Some of them are endearing, some an absolute joy while others are mini disasters. But they were all quite funny and had me rolling around laughing.
The Twelve Dates of Christmas really put me in festive mood (despite still being in October!). It's fun and flirty and an absolute joy to read! A magical book that was impossible to put down. If your in the mood for a laugh and for a little bit of sparkle, butterflies in your stomach, then this book is for you.
Subscribe to Blog via Email
Join 369 other subscribers