I received this book for free from Netgalley in exchange for an honest review. This does not affect my opinion of the book or the content of my review.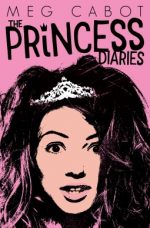 The Princess Diaries
by
Meg Cabot
Series:
The Princess Diaries #1
Published by
Macmillan Children's Books
on July 2, 2015
Genres:
Contemporary
,
Fiction
,
Romance
,
Young Adult
Pages:
320
Format:
E-Arc
Source:
Netgalley
Buy on Amazon
Goodreads
Mia Thermopolis is pretty sure there's nothing worse than being a five-foor-nine, flat-chested freshman, who also happens to be flunking Algebra.
Is she ever in for a surprise.
First Mom announces that she's dating Mia's Algebra teacher. Then Dad has to go and reveal that he is the crown prince of Genovia. And guess who still doesn't have a date for the Cultural Diversity Dance?
So The Princess Diaries have a new cover and I like it. I feel it shows how Mia should look like in comparison to the original covers with her orange bob hair thing.
This my childhood (OK my early teens) book and it was brilliant! It showed you didn't have to be the best at everything to get on with life, and sometimes things are not always quite what they seem.
Most people would love the idea of being a princess, of being royal – a Disney fairytale come true. But not Mia, this is a step too far for her. She is already considered a freak at school and this goes one step too far – how much more can she take? But somehow her royal news gets leaked and now Mia has to deal with being 'popular' and her tyrannical grandmother – forget the film version Mia's grandmother is not as loveable as you might think!
Mia has to mature as the year progresses – can she learn all about what it means to be a princess, cope with the make-overs and soften her Grandmere. All while remaining herself and bagging the boy?
Written as a journal, this is a funny, witty read with shows Mia as the typically over-active, hyper teen she is. Worrying about the whales, wanting to join Greenpeace and wondering what her classmates will think of her.
For those of you who didn't read originally, where were you?! And for you lot yet to have a chance, go read!The Princess Diaries is pure joy to read and you won't find out what you have missed till you have read and regretted past opportunities!
Subscribe to Blog via Email
Join 909 other subscribers