I received this book for free from Netgalley in exchange for an honest review. This does not affect my opinion of the book or the content of my review.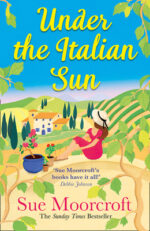 Under the Italian Sun
by
Sue Moorcroft
Published by
Avon
on May 13, 2021
Genres:
Fiction
,
Chick-lit
,
Contemporary
,
Romance
Pages:
384
Format:
E-Arc
Source:
Netgalley
Buy on Amazon
Goodreads
'A sun-baked terrace. The rustle of vines. And the clink of wine glasses as the first cork of the evening is popped…

Welcome to Italy. A place that holds the answer to Zia-Lucia Costa Chalmers' many questions. Not least, how she ended up with such a mouthful of a name.

When revelations close to home turn Zia's world upside down,she realises the time has come to search out the Italian family she's never known.

But as she looks for answers, she can't help but notice Piero, the vineyard owner next door – a distraction who may prove difficult to ignore…

This summer, join Zia as she sets out to uncover her past. But can she find the future she's always dreamed of along the way?

The perfect summer read for fans of Katie Fforde and Carole Matthews.
As Spring starts to turn a corner and the idea of long summers start to appear, it is more than high time that I cracked on with my summer reading. Under the Italian Sun being one of the first books to read this year.
I was initially drawn to this book, not only because I am a huge fan of Sue Moorcroft but also because it is based in Italy. One of my favourite places in the world. Mainly for the food, culture and gelato. But lets be honest there is something very special about that place.
Here we meet Zia, who is trying to find herself and find out more about her heritage. But there is also Piero, trying his hardest to save his home and Ursula and Stefan and their relationship. Each person in the book tugged my heart a little and I wanted to read more and know more about them. Although Zia, was undoubtable the heart and soul of the story.
This may seem a light, joyful summer read, but actually there is so many layers to the story that may be surprising to some. While there is a slow sizzler of a romance (which is perfect) there are also some darker moments in the books, such as when we learn more about Zia's mum and what happened when she was little.
This made me feel more for Zia and I truly cheered when I saw her making connections in Umbria. And for me this was the main point of the story. To make connections and family and to be yourself.
Under the Italian Sun is the perfect travel book for this summer, whether you are on on the beach or in your armchair. This is escapism at its finest with intriguing characters and the perfect setting.
Subscribe to Blog via Email
Join 369 other subscribers