Today I am delighted to be part of the Blog Tour for Second Lives by Scott K. Andrews with a giveaway and extract of Second Lives!
I'm in the middle of this book because, frustratingly work is getting in the way! But this is a series that I am so excited to read. Below I have an extract from the first book in the series – Timebomb (which is an awesome book) – which gives you an awesome taster of what this series is all about. And I have a link to a giveaway for a  chance to win one of five copies of Timebomb and Second Lives!
Also please visit other blog stops along the tour for other great content.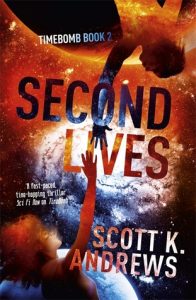 The Giveaway:
Five copies of Timebomb and Second Lives to five lucky people when Scott's new mailing list hits 100 subscribers.
The Extract:
First Interlude
'You are not a very good interrogator.' The woman leaned back in her chair, a half-smile dancing on her lips.
The interrogator, sitting across the table from her, said nothing. The woman studied him. About forty-five, she thought. Sagging chin, slight bulge at the waist, thinning hair. He wore a wedding ring, so somebody found him attractive. Or did once, anyway. His skin was pallid and grey, his teeth off-brown. He wore no uniform, preferring an anonymous grey suit, white shirt, blue tie combo that completed the picture of a man who was in every sense middling; middle-aged, middle-rank, middle-England. A functionary, a bureaucrat.
His small grey eyes, though, told a different story. They lacked all pity. He looked at her as if she were a specimen beneath a microscope. The woman harboured no illusions. The interrogator's appearance was a façade, part of his act.
'I think,' she said, pursing her lips and considering him with exaggerated care, 'that you were the kind of boy who liked pulling the wings off flies. Burnt ants with a magnifying glass. Maybe graduated to cats and dogs. Lots of pets go missing in your neighbourhood when you were young, did they?'
The interrogator stifled a yawn.
TO READ THE REST OF THE CHAPTER CLICK HERE
What do you think of the giveaway and extract of Second Lives? Have you entered to win? Do you want to read more? Let me know!
Subscribe to Blog via Email
Join 910 other subscribers