Welcome to Through the Letterbox.  I think that it is fair to say now that I am a huge fan of  FairyLoot. This is a monthly subscription ya book box based in the UK. This months theme is Memorable Moments.
the box:
In each box you can expect:
One recently published Young Adult book,
4-6 goodies often related to the book,
promotional items such as posters, bookmarks and a signed bookplate (whenever possible),
 a unique hashtag that links you up with one other person receiving a box.
The box is £26 plus shipping at £3.95 (if UK based) bringing it to a grand total of £29.95. I wish that the shipping is including in the price because it is like a hidden extra. But I do think that this box is well worth the price.
To celebrate the 2 year anniversary of FairyLoot, the March theme is 'Memorable Moments'! This box celebrates memorable moments in some of our favourite books!
Fairyloot said "There will be items that are perfect for fans of The Lord of the Rings, Harry Potter, Game of Thrones and Shadowhunters! We're including some really unique items in this box, and one of them is something we have never ever included before!"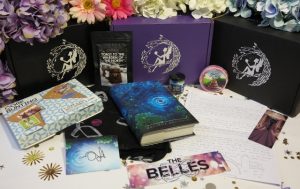 the unboxing:
State of Sorrow

by Melinda Salisbury! Also included was a s

igned book plate,

a

letter from the author

, and a

postcard

. This book sounds like it will be a thrill ride and a half! Excitingly this is an exclusive edition because this cover is for the UK paperback. So pretty special.
An exclusive

scarf inspired by the rune ceremony in the Shadowhunter

series made by 

Fiction Tea Designs

. The runes depicted include ones for angelic power, speed, soundless, clairvoyance, fearless, deflection, irate and talent. So a scarf I'm going to contanstly wear!
An exclusive

Goblet of Fire candle

created by Paper Flames Candle Co (it smells soooooo good) This is such a mini candle and has lovely blue swirls. And as it's based on my favourite HP book I am in love.
An exclusive

vegan soap

made by Geeky Clean with the name Biblo's Birthday Cake. It's Stwarberry and Vanilla scented and is perfect for any Hobbits out there.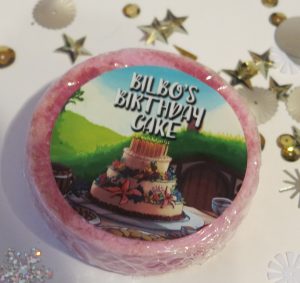 Hot chocolate with the name Toast to the Warden of The North

made by Eponine Patisserie Chocolaterie. Till and Dill designed the artwork. I can not wait for it to get cold gain so that I can start onc
A

cork bunting board

by Paladone. Which is super cute, I'm not sure what I am going To do with it, but it will be awesome.
Bonus Items

: The Belles bookmark and pin
This is the first time that I've loved everything in the box, and it has to be the first time when I cannot pic three favourites. I loved everything!!
Let me know if you've received Memorable Moments Fairyloot Box. I'd love to know your thoughts. What was your favourite item?  And was there anything that you didn't like?
Subscribe to Blog via Email
Join 910 other subscribers