Welcome to Through the Letterbox. Illumicrate is a monthly subscription box. This month's theme for Illumicrate is Identity Crisis.
the box:
In each box you can expect:
An exclusive edition of a newly released book, hand-picked by professional bookworms
An accompanying pin inspired by the book in the box, and designed by Fable & Black
4-6 themed items, exclusive to Illumicrate
Exclusive content from publishers and authors
There are two options when you get the box. You can get either the monthly full box or the monthly book only box. The monthly full box subscription boxes costs £27 per box plus shipping. The monthly book only subscription costs £17 per month plus shipping.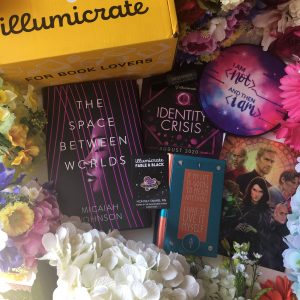 the unboxing:
This is the first time that I have had a book box for over two years! And I am super excited to dive into this box. I guessed the featured book a while back on instagram and I was right! Anyways here are my thoughts on the items below.
Featured book – The Space Between Worlds by Micaiah Johnson. 

This book is signed by the author and has an exclusive cover and sprayed edges. I am super excited to read this debut book. It has been on my 'keep an eye on' list for a few months so to actually have a copy in my hand is very excited. I cannot wait to see what this intriguing world has to offer.

Percy Jackson and the Olympians Inspired Book Tin

designed by

Chatty Nora.

 This is super cute and is shiny. Now all I need to do is decide what I am going to keep in my tin.

I am Not Pin Hoop

artwork by

Felfira Moon Designs.

This is a quote from AIDAN and is Illuminae inspired. I haven't read this series but I love the swirly background design. And I need to put my pins somewhere so this is a great start.

Rampion Tumbler

artwork by

Forensics and Flowers.

This is is inspired by Captain Thorne's ship from The Lunar Chronicles. Again this is a series that I haven't read and unfortunately the box was shipped without this item as there was a delay. So at the moment I cannot really comment on it.
The Huntress Nail Oil

created by

Madame Alchemie.

This is inspired by We Hunt the Flame. I feel like that this is an interesting item to have included in the box. I, myself am not one who spends a lot of time on my nails so I have no idea what to make of this! Is anyone else able to form an opinion?
Mistborn Print

artwork  by

Alice Maria Power.

This is one of my favourite prints ever! it is holographic and features all the key characters from the series. And it is this that makes it my favourite item.
Monthly Collectors Pin designed by Fable and Black and inspired by the featured book!

It is gorgeous and has very quickly become one of my favourite pins.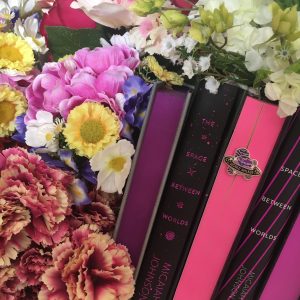 Also make sure you check out Illumicrate on Twitter, Facebook and Instagram.
Let me know if you've received Identity Crisis Illumicrate Box. I'd love to know your thoughts. What was your favourite item?  And was there anything that you didn't like?
Subscribe to Blog via Email
Join 910 other subscribers