I received this book for free from Publisher in exchange for an honest review. This does not affect my opinion of the book or the content of my review.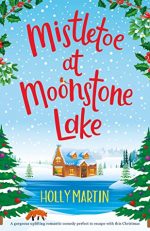 Mistletoe at Moonstone Lake
by
Holly Martin
Series:
Jewel Island #5
Published by
Seaside & Sparkles
on 6 October 2021
Genres:
Fiction
,
Chick-lit
,
Christmas
,
Romance
Format:
E-Arc
Source:
Publisher
Buy on Amazon
Goodreads
Escape to the breathtaking Cornish Coast this winter, where the ocean sparkles in the moonlight and romance crackles like an open fire. This gorgeous new love story by million selling author Holly Martin is the perfect treat to warm your heart this Christmas.

Artist Zoey Flynn hadn't planned to spend her favourite holiday on the shores of Jewel Island, but when her fiancé breaks off their engagement before their Christmas Eve wedding, this Cornish paradise is just the distraction she needs.

With a cosy cottage to call home for a month and a stall at the island's famous Christmas market to sell her paintings, Zoey quickly puts her heartbreak behind her. Love is the last thing on her mind. That is until the handsome Kit Lewis crosses her path…

Their connection is instant, but Zoey has a secret. And the deeper she and Kit fall for one another, the harder it is to hide. Kit knows Zoey is holding something back and if she won't tell him the truth she could lose him forever.

Is keeping a promise from the past worth sacrificing a future with the man she loves? Or might Kit be the one person she can trust?

Love, laughter and long-hidden secrets are waiting for you on stunning Jewel Island. For fans of Jill Mansell, Sarah Morgan and Sue Moorcroft, this is the perfect tale to curl up with this Christmas.
So Holly Martin has done her Christmas thing again with the gorgeous Christmas treat that is Mistletoe at Moonstone Lake. And even though I am reading this book in September I am dreaming of the gingerbread, hot chocolate, winter nights to start. Can Christmas start early this year??
This is our fifth visit to Jewel Island, and on this occasion we meet Zoey and Kit. Two artists who are clearly meant to be together. And after their meet-cute goes viral there is no reason why they should not be together.
For me this was a fun and delicious read. I've been struggling to read for a while and Mistletoe at Moonstone Lake was the answer. It gave me so many feels that I could not stop reading and it was over far before I ready. I wish there had been more time spent developing their relationship and see some of my favourite characters from previous books. Is it bad that I just want more?
I loved the cute moments in their relationships and how Chiristmassy they made each of their dates. They family relationships, everything. As stated previously I just wanted so much more!
I have seen on all the reviews that they would like a Sylvia book and I have to say that I agree. Here, I feel like she was sidelined a bit and was not used to her full advantage. If anyone is with me I will do a campaign for this?
I loved this book, Mistletoe at Moonstone Lake was pure Christmassy joy and it was a great way to get in that festive spirt. It was like a warm hug welcoming me into the season. All I can say now is roll on Christmas.
Subscribe to Blog via Email
Join 905 other subscribers