I received this book for free from Netgalley in exchange for an honest review. This does not affect my opinion of the book or the content of my review.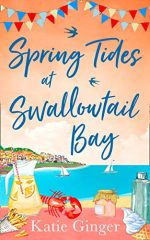 Spring Tides at Swallowtail Bay
by
Katie Ginger
Series:
Swallowtail Bay #1
Published by
HarperCollins UK
on March 18, 2020
Genres:
Chick-lit
,
Fiction
Pages:
384
Format:
E-Arc
Source:
Netgalley
Buy on Amazon
Goodreads
'OMG Katie Ginger has done it again! This book is brimming with love and energy... and doesn't let you go again until you reach the final page.' NetGalley reviewer, 5 stars
Escape to the cosy seaside town of Swallowtail Bay, the perfect place for a fresh start – but is Stella's new beginning over before it's begun?
Licking her wounds from her divorce, Stella impulsively buys a gift shop and two holiday lets in glorious Swallowtail Bay, hoping for a fresh start with her King Charles Spaniel Frank.
When the neighbours meet her with a warm welcome, Stella knows she's found the new home she was looking for. Even gorgeous but grumpy local Miles can't take the shine off things. But then her ex-husband announces he's getting married again, and someone in the village starts gossiping about Stella...
Is Stella's dream over already? Or, with her new friends behind her, can Stella fight back and save her new life – and find the happy ever after she's been waiting for?
Fans of Cathy Bramley, Debbie Johnson and Jenny Colgan will fall in love with Swallowtail Bay!
Readers LOVE Spring Tides at Swallowtail Bay!
'I LOVED this book so much and am gutted to reach the end!!' 5 stars
'my favourite book of Katie's so far!... I would highly recommend this cute, cosy, light-hearted read and all of Katie's previous books, as she is an author you aren't going to want to miss out on!' 5 stars
'Wow! What can I say! This book is amazing!'
'What a lovely read this was! ... I devoured this book in just a couple of days and felt like I was getting a warm hug each time I began reading it again.'
'I would love to go to Swallowtail Bay, it sounds like the picture-perfect escape.'
'Cute, cosy, and adorable.' 5 stars
'I read this in a day, couldn't put it down.' 5 stars
'Amazing characters that you fall in love with.' 5 stars
This is a moving tale about love, friendship and new beginnings. Stella, a recent divorcee moves to Swallowtail Bay and puts all her money into a questionable gift shop and a couple of holiday lets. And so begins her chance to start again.
As well as Stella, there is also a super cute King Charles Spaniel, her arrogant next door neighbour Miles, who may not be quite as he seems, and Lexie who has two young children.
Swallowtail Bay is a charming place, that will sweep you in and make you wish that you could go there for real. And I cannot wait to visit it again in the next book!
Subscribe to Blog via Email
Join 369 other subscribers