I received this book for free from Netgalley in exchange for an honest review. This does not affect my opinion of the book or the content of my review.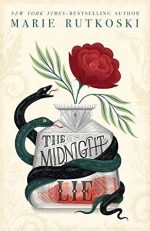 The Midnight Lie
by
Marie Rutkoski
Series:
The Midnight Lie #1
Published by
Hodder & Stoughton
on March 3, 2020
Genres:
Fantasy
,
Fiction
,
Young Adult
Pages:
368
Format:
E-Arc
Source:
Netgalley
Buy on Amazon
Goodreads
Where Nirrim lives, crime abounds, a harsh tribunal rules, and society's pleasures are reserved for the High Kith. Life in the Ward is grim and punishing. People of her low status are forbidden from sampling sweets or wearing colors. You either follow the rules, or pay a tithe and suffer the consequences.
Nirrim keeps her head down and a dangerous secret close to her chest.
But then she encounters Sid, a rakish traveler from far away who whispers rumors that the High Caste possesses magic. Sid tempts Nirrim to seek that magic for herself. But to do that, Nirrim must surrender her old life. She must place her trust in this sly stranger who asks, above all, not to be trusted.
Set in the world of the New York Times–bestselling Winner's Trilogy, beloved author Marie Rutkoski returns with an epic LGBTQ romantic fantasy about learning to free ourselves from the lies others tell us—and the lies we tell ourselves.
When I saw The Midnight Lie was coming out I was super excited. I was blown away by The Winner's Curse Trilogy and to have a new book set in that world… well, left my heart racing.
While set in the same world, The Midnight Lie focuses on a different part of that world, a secret hidden part. One that the rest of the world has all but forgotten, except in rumours…
While I had every intention of rereading The Winner's Curse before this I didn't. But it didn't matter, because while there was some allusions to the previous series it didn't effect the storytelling. Although it probably have been helpful as I couldn't remember the past events.
We follow Nirrim, a half-Kith, living in the Ward, the poorest part of the city, impoverished, and with low expectancy of what life holds, until she meets Sid. A traveller, Sid opens Nirrim's eyes and together they begin to explore the city and discover the secrets long forgotten.
Wonderfully woven, this is an incredible story that will suck you in. I had no idea of what to expect when I started. But even with my high hopes for this book I was not disappointed. This was a book that I struggled to put down from the very moment that I picked it up.
Luckily this is a trilogy and I cannot wait for the next book. Sadly we have to wait for it to come out. But if you have a hole in your life and need a new fantasy YA book then look no further!
Subscribe to Blog via Email
Join 910 other subscribers