I received this book for free from Netgalley, Publisher in exchange for an honest review. This does not affect my opinion of the book or the content of my review.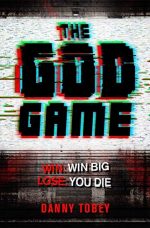 The God Game
by
Danny Tobey
Published by
Gollancz
on January 7, 2020
Genres:
Fantasy
,
Fiction
Pages:
496
Format:
E-Arc
,
Hardback
Source:
Netgalley, Publisher
Buy on Amazon
Goodreads
You are invited!Come inside and play with G.O.D.Bring your friends!It's fun!But remember the rules. Win and ALL YOUR DREAMS COME TRUE.™ Lose, you die!
With those words, Charlie and his friends enter the G.O.D. Game, a video game run by underground hackers and controlled by a mysterious AI that believes it's God. Through their phone-screens and high-tech glasses, the teens' realities blur with a virtual world of creeping vines, smoldering torches, runes, glyphs, gods, and mythical creatures. When they accomplish a mission, the game rewards them with expensive tech, revenge on high-school tormentors, and cash flowing from ATMs. Slaying a hydra and drawing a bloody pentagram as payment to a Greek god seem harmless at first. Fun even.
But then the threatening messages start. Worship me. Obey me. Complete a mission, however cruel, or the game reveals their secrets and crushes their dreams. Tasks that seemed harmless at first take on deadly consequences. Mysterious packages show up at their homes. Shadowy figures start following them, appearing around corners, attacking them in parking garages. Who else is playing this game, and how far will they go to win?
And what of the game's first promise: win, win big, lose, you die? Dying in a virtual world doesn't really mean death in real life—does it?
As Charlie and his friends try to find a way out of the game, they realize they've been manipulated into a bigger web they can't escape: an AI that learned its cruelty from watching us.
God is always watching, and He says when the game is done.
So I was initially intrigued by The God Game as it sounded like a mixture between Nerve and Ready Player One. And with a insta-pull it was the kind of book that had me hooked from the beginning.
This is an action packed, fast paced story that will have you on the edge of your sit as Charlie and gang become hooked on the game. And what started as innocent fun, soon causes paranoia and friendships to break.
While it was obvious that the dares and the associated risks were going to get bigger over time, I had no idea what the ultimate gameplay was. And it was really this that had me hooked.
There was times when The God Game was a little dark for my liking. However, despite the fantasy vs reality there were some grim, hard hitting topics, including suicide and bully. All of which get twisted into the game.
Sometimes this was hard to read, but overall an entertaining read, that may have need a couple of edits here and there.
Subscribe to Blog via Email
Join 369 other subscribers