I received this book for free from Netgalley in exchange for an honest review. This does not affect my opinion of the book or the content of my review.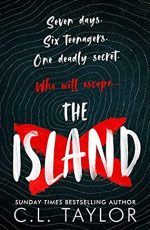 The Island
by
C.L. Taylor
Published by
HQ Young Adult
on January 21, 2021
Genres:
Fiction
,
Mystery
,
Suspense
,
Thriller
,
Young Adult
Pages:
384
Format:
E-Arc
Source:
Netgalley
Buy on Amazon
Goodreads
Lost meets The Hunger Games in the thrilling new young adult novel from C.L. Taylor, the Sunday Times and million-copy bestselling author.
Welcome to The Island.Where your worst fears are about to come true…
It was supposed to be the perfect holiday: a week-long trip for six teenage friends on a remote tropical island.
But when their guide dies of a stroke leaving them stranded, the trip of a lifetime quickly turns into a nightmare.
Because someone on the island knows each of the group's worst fears. And one by one, they're coming true.
Seven days in paradise. A deadly secret.
Who will make it off the island alive?
The Island was a book that I could not stop reading it. Even though I had work next day I binged this book until the early hours of the morning. Desperate to know who was behind these events and to see if my guesses for the culprit were correct.
We are told the story from two viewpoints, Jessie and Danny. Reading from their perspective, there is a definite feeling of knowing them best. Of understanding their perspectives and how they react to certain events. The other four are more mysterious and therefore more suspicious.
I always thought that a remote island would be a pretty amazing holiday, but now I am having second thoughts. There are so many things that could go wrong.
Every book I have every read by C. L. Taylor is one of my favourite authors and has never let me down. Whether it's her books for adults or those aimed for a younger audience. All of them have drawn me in and kept me guessing. And every time I have guessed wrong.
While this is a book targeted for young adults as an adult this didn't effect my enjoyment of the book at all. Like all C. L. Taylor books I felt very much at home and was absorbed from page one. Brilliant, addictive and compelling, this was a throughly enjoyable read!
Subscribe to Blog via Email
Join 910 other subscribers