I received this book for free from Netgalley in exchange for an honest review. This does not affect my opinion of the book or the content of my review.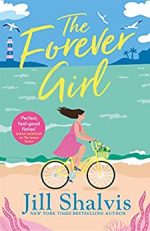 The Forever Girl
by
Jill Shalvis
Series:
Wildstone #6
Published by
Headline Eternal
on January 12, 2021
Genres:
Fiction
,
Contemporary
,
Romance
Pages:
400
Format:
E-Arc
Source:
Netgalley
Buy on Amazon
Goodreads
New York Times bestselling author Jill Shalvis does it once again with a heartfelt story of family, forgiveness, and secrets that have the power to change the course of more than one life.
When Maze returns to Wildstone for the wedding of her estranged bff and the sister of her heart, it's also a reunion of a once ragtag team of teenagers who had only each other until a tragedy tore them apart and scattered them wide.
Now as adults together again in the lake house, there are secrets and resentments mixed up in all the amazing childhood memories. Unexpectedly, they instantly fall back into their roles: Maze their reckless leader, Cat the den mother, Heather the beloved baby sister, and Walker, a man of mystery.
Life has changed all four of them in immeasurable ways. Maze and Cat must decide if they can rebuild their friendship, and Maze discovers her long-held attraction to Walker hasn't faded with the years but has only grown stronger.
The Forever Girl was a book that I did not realise that I needed to read. From the very first page, I wanted to stop what I was doing and just delve into these characters. Find out more about the secrets they keep and what keeps them all together.
Also do not be put off that this is the sixth book in the series. I feel like series is the wrong word. It is more a collection of stories based in the same area. So if you have not read the others do not panic! But after reading this amazing book you may want to pick up more of Jill's books for yourself!
Okay, so honesty time, at the time of this review I'm only 60% of the way through. And if it wasn't for an early start and work I would be definitely doing an all-nighter to finish this book.
I love Heather, Maze, Walker and Caitlin. Despite everything you can feel their warmth and their friendship. I loved how each chapter we got to learn more about them and their secrets.
The Forever Girl has encoded so many feelings; romance, love, family, the need to have second chances, and even thirds. I have laughed, cried, held my breath and smiled throughout.
This has honestly been one of my favourite books of the year and I cannot wait to dive back in after work.
On a side note I really love the italic thoughts at the start of each chapter, the last one may have made me snort… just thought I would share.
Subscribe to Blog via Email
Join 910 other subscribers